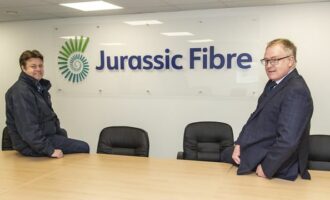 Location News
Broadband team make a home in Honiton
Regional broadband provider Jurassic Fibre has unveiled their new state-of-the-art office space and warehouse in Honiton, delivered in partnership with office refurbishment contractor, MD Business Interiors.
Passionate about sourcing suppliers from within the region, Jurassic Fibre selected leading Exeter-based refurbishment expert, MD Business Interiors, to lead on the project, which involved transforming an old 2.2 acre site on Bramble Hill Industrial Estate into a combined modern office space and sophisticated storage facility. Work started in August 2020 and took six months to complete.
The new Honiton premises is a significant investment for the full fibre broadband company, which is currently rolling out its ultrafast network to towns, villages and business parks across Devon, Somerset and Dorset. Strategically placed in Honiton, the new warehouse provides a convenient location for work taking place between the three counties.
Fully designed and equipped, according to the highest building specification, the warehouse features office space for 80 staff and high-quality welfare facilities. The site is also fully DDA compliant, meaning it is fully accessible for disabled people.
During the refurbishment, efforts were made to ensure that the project had minimal impact on the environment; with the construction adhering to green and sustainable practices and processes. Jurassic Fibre worked closely with MD to ensure the use of ethically sourced and eco-friendly products and that any existing waste and building materials from the original site were recycled or responsibly removed. The project also included the addition of a small orchard of trees, planted at the rear of the property, to boost the nearby natural environment and wildlife.
Mark Dowse, director of MD Business Interiors, says: "We've enjoyed working with Jurassic Fibre, over the last six months, to transform their site in Honiton into a fully-functioning, advanced office working and warehouse space.
"Before construction began, we took the time to really understand Jurassic Fibre's needs and values in order to provide a space that meets their aspirations. We pride ourselves on delivering exceptionally high-quality office furniture and refurbishment projects and feel confident we have achieved this with the new Honiton centre.
"The team at Jurassic Fibre are a fantastic bunch of people and we are excited to support them in the future with similar projects as they continue to expand their network across the South West."
Craig Vickers, construction project manager for Jurassic Fibre, said: "It's been a pleasure working with Mark and the team at MD Business Interiors on our new Honiton centre. As a Devon-based business, we are passionate about working with other South West companies and tradesmen, especially those who use ethical and sustainable practices and equipment, which is why Mark and his team were such a great fit.
"Throughout the whole process, MD Business Interiors went over and above to meet our requirements for the building and worked incredibly hard to deliver the project to the brief, on time and within our agreed budgets. Some aspects of the refurbishment were logistically very challenging and we encountered several obstacles during the construction, such as a technical removal of an intricate mezzanine flooring. However, nothing was too difficult for the team and the quality of their workmanship constantly exceeded our expectations. We are thrilled with the end result and look forward to strengthening our relationship as we continue to work with them in the future."