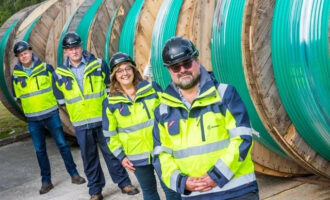 Location News
Jurassic Fibre celebrates national award win as they announce the expansion of their network to Bridgwater
Jurassic Fibre today announced that Bridgwater in Somerset will be the next town to benefit from their fibre-to-the-premises network
This roll-out immediately follows the company's achievement, at the 2020 ISPA Internet Industry and Broadband Awards, as 'Best New ISP'.
This announcement also comes hard on the heels of the company's previous extension of their service to a number of new areas in East Devon and Somerset, including Honiton, Yeovil, Taunton, and, most recently, Barnstaple, Wellington, West Hill, and Marsh Green.
Michael Maltby, CEO and Founder at Jurassic Fibre, says:
"Receiving the award for best new ISP really is a wonderful tribute to the hard work of our highly skilled and motivated team and represents the great strides we've made this year to connect almost 20,000 premises to ultrafast full fibre broadband.
"We have seen our service deliver real benefits to the people of East Devon, at a time when fast and reliable broadband has never been more important. We're now extending these benefits to towns across Somerset.
"We are greatly encouraged by the support we have received from local customers and stakeholders, including landowners and councilors, and thank them for sharing our vision and ambition to improve broadband connectivity for those living in rural towns and villages."
Jurassic Fibre is taking great strides towards completing the first 50,000 premises, expected early in the new year, which will get them a step closer to the 350,000 premises they plan to provide with ultrafast full fibre broadband in the next 4 years across the South West.
Michael Maltby comments:
"Communities in villages and towns across the region have long felt ignored by service providers and frustrated by poor internet performance. Opening up access to world-class technology is set to further enhance the area's appeal as a desirable location to live, work and holiday; providing a boost to the local economy and improving the daily lives of many local people."