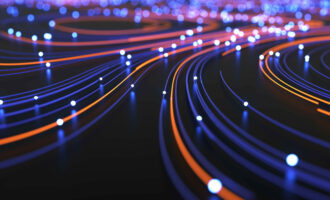 Insights
What is fibre-optic broadband?
Tired of endless game lag, video buffering and glacial download speeds? People everywhere are expecting more from their everyday digital experiences. Fibre-optic broadband has opened the doors to fast, seamless internet use, enabling computers, consoles, smartphones and televisions to deliver the sports, gaming, films, music and social connections we love with more speed and clarity than ever before.
It's becoming increasingly obvious that traditional copper cables and even 'superfast' broadband can't keep up with demand. With everyone talking up the benefits of a fibre connection, it's fair to wonder: how does full-fibre internet work, and what can you really expect from it?
How does fibre-optic broadband work?
Full-fibre broadband sends digital data over a network of fibre optic cables instead of the usual copper lines found in the terrestrial telephone network. The fibre cable's core is made of a thin strand of silica or clear plastic that transmits the signal literally at the speed of light.
Fibre is far more efficient than copper, offering almost no resistance, and so is highly effective over longer distances. This results in vastly superior connection with download speeds that typically reach 90x that of traditional lines, and often 10x faster than a 'superfast' connection.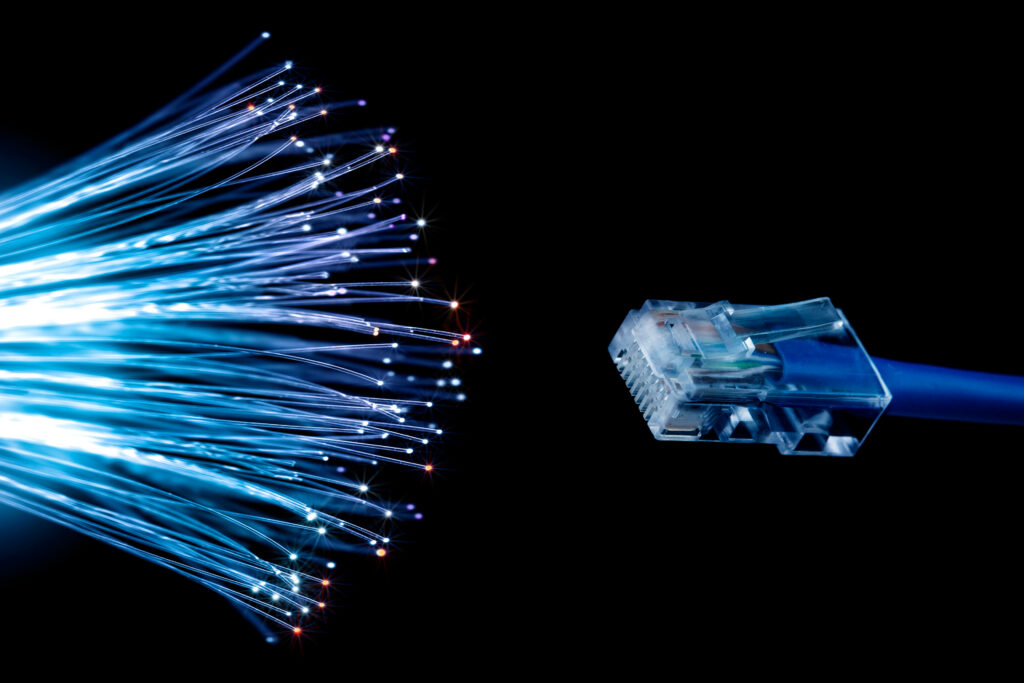 What's the difference between a fibre connection and broadband?
The industry still considers the standard broadband connection via copper lines (known as ADSL) to be 'fast-speed', although with download speeds of between 9-24Mbps (megabytes per second), this is far slower than you would expect from a fibre connection. Fibre optic broadband connections are far more powerful and can deliver hugely superior speeds.
How fast is fibre broadband?
In terms of standard fibre-optic broadband speeds as defined by Ofcom, with a 'superfast' connection you should typically expect download speeds of around 30-60MBps, depending on the time of day and number of users accessing the line.
However, if your house is connected for ultrafast broadband, there will be a significant leap in performance. In this case, you should expect speeds of at least 300MBps, and perhaps as fast as 950Mbps in the optimum circumstances.
Be aware that there are a number of factors that can still influence the speed you'll get from your internet connection, including the speed of the device you use, the age of your router, the time of day and the number of users connected to your broadband. All will impact the quality of what you finally see.
The variation in incoming speeds between superfast and ultrafast fibre broadband is down to whether the service to your home is FTTC or FTTP. What does this mean?
The difference between FTTC and FTTP
Put simply, FTTC stands for 'fibre to the cabinet'. The cabinet here is the dark green junction box you typically see in every street, which connects homes to the main telephone lines. With FTTC, fibre lines are installed up to the cabinet, but the connection from there to your home is usually copper wires. This is what is used for a 'superfast' broadband connection via Openreach-based providers, such as BT, Plusnet, Sky, EE and Vodafone.
FTTP stands for 'fibre to the premises'. This means that full-fibre lines are connected directly to your home, without any copper interventions. Commonly known as 'ultrafast' broadband, it ensures you will enjoy the fastest possible internet speeds. This is currently only available through select providers such as ourselves at Jurassic Fibre.
How does fibre optic broadband get into my house?
Fibre cables are now a part of the telephone network across large parts of the UK. From the main local exchange, they will run to the street cabinet near your home and from there we can connect fibre lines straight into your house.
As part of the process, you'll get a new box installed inside your home where the lines enter, which will be compatible with your Wi-Fi router.
There are some regions within the South-West that are yet to get fibre optic lines via the Openreach network. We're in the process of installing a multi-million pound full-fibre infrastructure around the region, so that ultrafast broadband becomes available to as many people who need it as possible.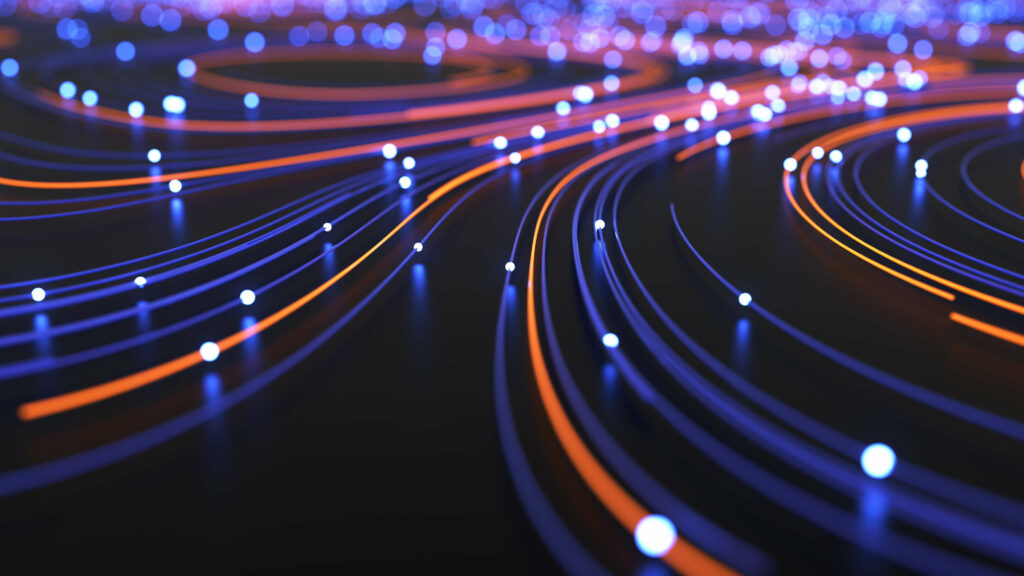 Do I need fibre broadband?
It all depends on how much you have come to rely on the internet for watching sport, connecting with family, playing online with friends and enjoying films and your favourite series.
Ultrafast fibre broadband is perfect for you if any of the following is important to you:
Connectivity
Traditional copper lines are vulnerable to things like cold, damp and electrical interference, all of which can show down your internet connection even further, and periodically cause your connection to drop out altogether.
Fibre lines are stronger and unaffected by the above, as they rely on light rather than electrical current. So you can be sure of a high quality signal at all times, and no buffering every time you want to watch a film.
Speed
Again, because fibre lines are based on silica or plastic, they transmit data at the speed of light. If you're wired for ultrafast broadband, this results in download speeds of anything between 300-950Mbps, which dwarfs the maximum 24Mbps you can expect from an all-copper connection. This will eradicate video buffering and game lag, and make video calls feel like you're in the same room.
Signal strength
The nature of copper lines means that the electrical signal strength declines steadily the further you are away from the main exchange. As fibre uses light to transmit digital data, this results in vastly less resistance in the lines, and a much stronger signal, even when you're comparatively far from the exchange.
Bandwidth
With superior strength comes a greater ability to cope with increased amounts of data. Fibre broadband can handle multiple users at the same time, even if running high definition applications. Avid gamers, home-schoolers and boxset fans can all be happy.
Can I get fibre broadband?
Full-fibre broadband is now available in many regions across the South-West, while we are still working to install the infrastructure in others. Is your home eligible for an ultrafast broadband upgrade?
Why get fibre broadband from Jurassic Fibre?
Our multi-million pound network is being built by people in the South-West, for people in the South-West.
We understand the issues and excuses you have had to put up with from the main providers over the years, and are determined to improve prospects for everyone in the region.
We want our businesses, communities and homes to have the broadband they need and deserve.
We can also offer you:
Local support – get looked after by a friendly local team
Simple contracts – Fixed-price or monthly rolling contracts, you choose
Upgrade/downgrade – once a month you can upgrade or downgrade your package
Sound good to you?
Take the first step towards an ultrafast fibre future today. Use our postcode checker to see your connection status right now.
Alternatively, speak to our team on 01392 45600, lines open from 9am to 6pm Monday to Friday.