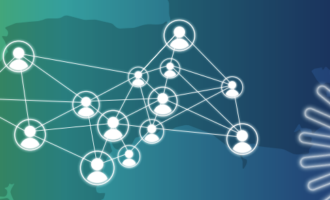 Insights
Apprenticeships & T-Levels at Jurassic Fibre  
Whether you are just starting out in your career, you are looking to upskill or move into a completely new career, apprenticeships are perfect. Allowing you to gain real life, hands-on experience in a business, all while getting paid. Here at Jurassic Fibre, one of our missions is to invest in apprenticeships. Whatever your plans, an apprenticeship in Exeter with Jurassic Fibre helping to bring ultrafast fibre broadband to the South West and transform one of the most rural areas in the country has endless opportunities.
Our Approach to Apprenticeships
We believe apprenticeships are a priceless resource for skill development across all areas of our company. They are an incredibly efficient way to find and train future employees, fill skills gaps, and advance careers across core parts of our business.
The goal of Jurassic Fibre is to maximise the impact of apprenticeships where resources are most needed by implementing role-specific development programmes and customised on-the-job training. Our training does not focus on any one age or professional level either. As a result, we can hire apprentices within various teams to advance skill development throughout our company.
Apprenticeships provide highly skilled, well-trained employees who add tangible, quantifiable value, whether they are school leavers, recent graduates, job changers, or career developers.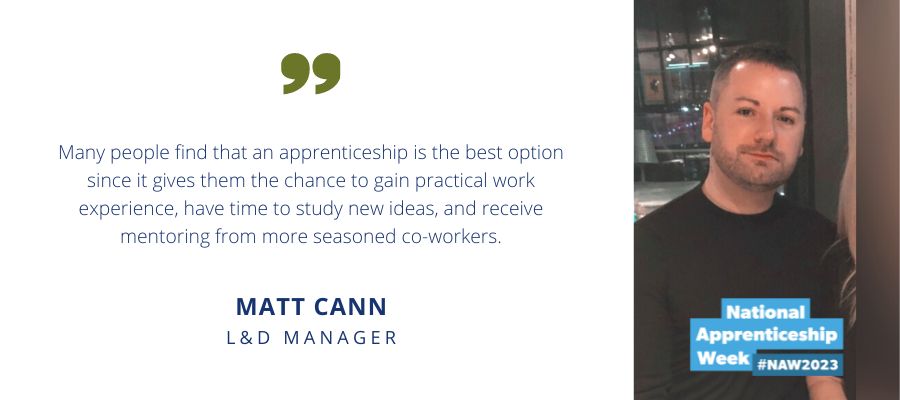 What to Expect from an Apprenticeship with Jurassic Fibre
Apprentices not only have the opportunity to gain hands-on experience in a fast-growing business, but there are also various other benefits that can be gained from joining as an apprentice at Jurassic Fibre.
Support & Mentorship for Apprentices
Learners will receive committed support from Jurassic Fibre in addition to the technical instruction and coaching they receive from the training provider. They will have a mentor who will assist the apprentice in the workplace by transferring knowledge and responding to enquiries that come up during day-to-day activities.
Present Real-World Responsibilities
Real-world activities and responsibilities will be assigned to the apprentice in accordance with their apprenticeship programme and work role. They will be able to contribute to the overall goals and objectives of the business while also expanding their understanding of the sector.
Committed Interest from Jurassic Fibre in the Development of the Apprentice
A proactive interest and understanding of the apprenticeship programme being provided and its content will be demonstrated by Jurassic Fibre. By promoting their growth and creating tasks that complement their training and their needs, this will ensure that we make the most of our apprentices.
Opportunities to Gain Experience
All apprentices will have the chance to explore their areas of interest and participate in projects that draw on their technical training, regardless of whether they are beginners or already have some experience in the sector they have chosen.
Apprenticeship Rights
All our apprentices will have the same employment rights as any other employee, including the right to sick pay, holiday entitlement, and access to employee benefits schemes.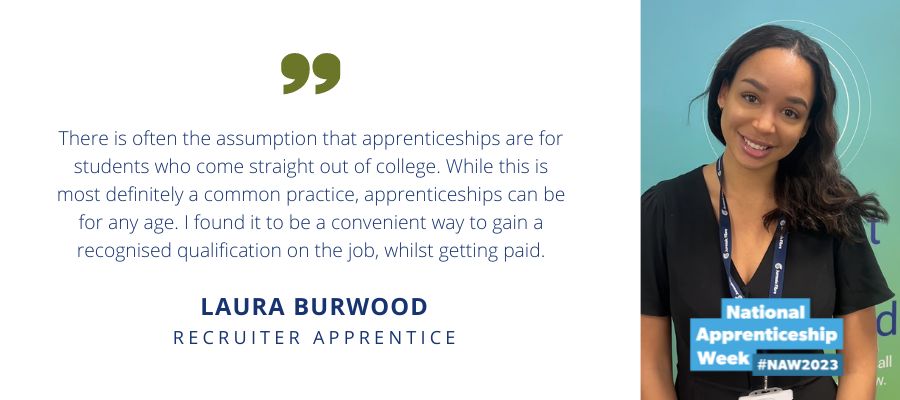 Our first apprentice, Laura Burwood, made a career change from the healthcare industry into recruitment and has found an apprenticeship a fantastic way to gain a recognised qualification as well as gaining practical, hands-on experience.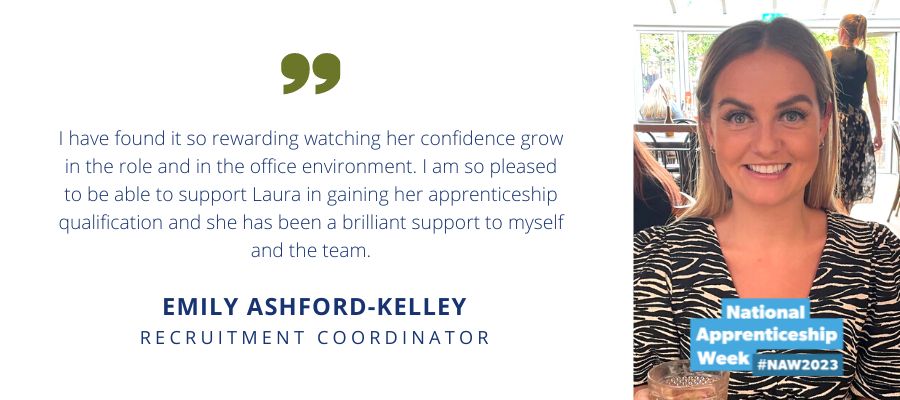 For more information about how her time as Jurassic Fibre's first apprentice has been so far, she gave us a first-hand account in another blog.
Current Apprenticeship Vacancies
Here at Jurassic Fibre, one of our missions over the next few years is to invest into apprenticeships and upskill not only the future generation but support those who want to change careers. Our plan is to have at least one apprentice in each area across the business.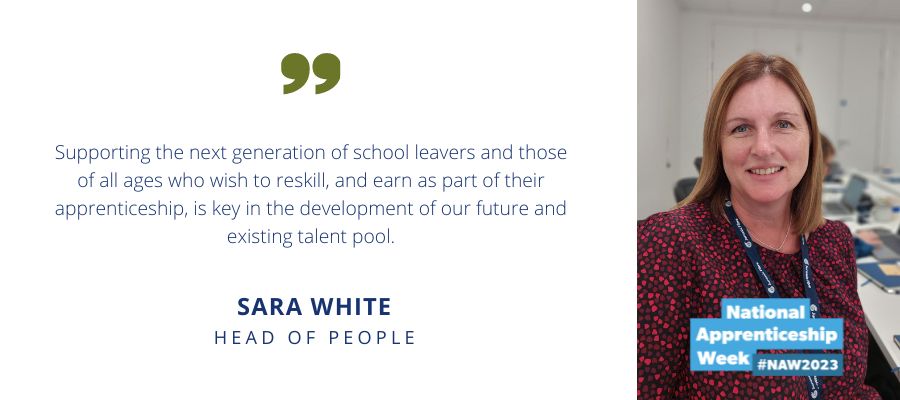 T-Level Opportunities at Jurassic Fibre
In addition to apprenticeships, we also have a T-Level student at Jurassic Fibre. T-Levels are an alternative to A-Levels and apprenticeships, providing high-quality, level 3 classroom-based technical programmes that will equip students with the skills, knowledge, and behaviours they need to progress into skilled employment. They are an important aspect of Jurassic Fibre, allowing us early access to a talented pipeline for entry-level positions, helping to improve our innovation and increase our organisation's productivity.
Every T-Level includes an industry placement with an employer focused on developing the practical and technical skills required for the given occupation. As an employer we will provide the student with a safe working environment, opportunities for the student to develop their technical skills within our industry, a line manager to support, supervise and mentor, and formal feedback on their progress.
Our current T-Level student has been working on the IT Service Desk learning to build rapport with all departments and learning key customer service skills.
T-Level placements have given us access to skilled, talented people and if they're a good match, we will help transition them to the next level of apprenticeship, or into the workplace.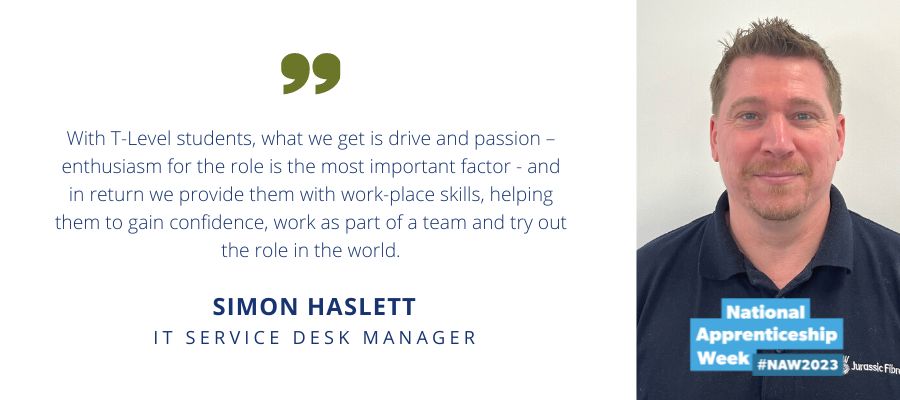 Whether you are interested in undertaking an apprenticeship or T-Level placement with Jurassic Fibre, find out more about our current vacancies on our careers page.