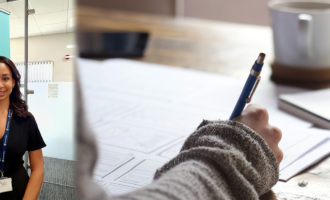 Insights
My journey as Jurassic Fibre's first apprentice
Your first job can be the most daunting, but with the increase and investment in apprenticeships, more people have the chance to begin a role within a company and get some real-world experience while still studying. At Jurassic Fibre we believe in opportunities for all, and Laura Burwood, our first apprentice gives a first-hand account of her experience of being part of the Jurassic Fibre family.
Hey Laura! You're our first ever apprentice! What made you decide to do an apprenticeship?
Hey! I made a career change from the healthcare industry into recruitment. Because I'm so new to the world of recruitment, starting off at an apprenticeship level is the most convenient way for me to develop my understanding, whilst gaining a recognised qualification.
So, how was your first month at Jurassic Fibre?
The HR team warmly welcomed me into the fold. I worked closely with the Recruitment Co-ordinator, Emily Ashford-Kelley, within the team to gain the skills to recruit other people into various roles within the business.

As well as the day-to-day part of my role, I have attended informative meetings with members of other departments and managers to get a full view of the company, and how each role fits into their areas.

What's working with the Jurassic Fibre HR team like?
The HR team are so supportive and warm, they have eased me into the department and working environment which on your first few days can be overwhelming. My colleagues are always happy to assist me and never get tired of my questions. The office environment is always positive and bubbly.

The Jurassic Fibre HR team are superstars! How has your time been with Jurassic Fibre as a whole?
There is always something going on in the office, whether it be charity initiatives by the staff, events, awards, or celebrations there is always something to take part in which gives me opportunities to meet other colleagues in different departments.
They are always encouraging self-development and providing additional training opportunities and I was given the opportunity to attend the TechSW awards which was a great evening. I was able to network with some of the incredible tech companies we have here in the South West.

What would you say to someone else looking at apprenticeships?
Definitely do your research before applying for an apprenticeship, both for the apprenticeship level you are applying for and the company you will be joining. There are different levels of apprenticeships depending on the skill required and the duties you will be performing.
Working as an apprentice allows you to meet a variety of people that have relevant connections to your industry, whilst having insight into the working environment – It's a great start to set you up for the future.

There is often the assumption that apprenticeships are for students who come straight out of college. While this is most definitely a common practice, apprenticeships can be for any age. I found it to be a convenient way to gain a recognised qualification on the job, whilst getting paid.
How did HR feel about having the first apprentice?
We spoke to Recruitment Coordinator, Emily Ashford-Kelley, about what it's like to have an apprentice working under her wing.
I was so excited to hear I would be line-managing Jurassic Fibre's first ever apprentice! Laura joined us in October as our Apprentice Recruiter, and in the short time she has been with us, I have found it so rewarding watching her confidence grow in the role and in the office environment. I am so pleased to be able to support Laura in gaining her apprenticeship qualification and she has been a brilliant support to myself and the team.
What are the values of being an apprentice?
Apprenticeships are great for anyone who wants to learn – whether that's upskilling in their current role or someone looking at taking steps towards changing their career. Not only do they gain a nationally recognised qualification, but they also learn 'on the job' and gain a wealth of experience and knowledge along the way.
Interested in a career with us?
Find out more about our Jurassic Fibre family, and the current vacancies visit our careers page to get more information.