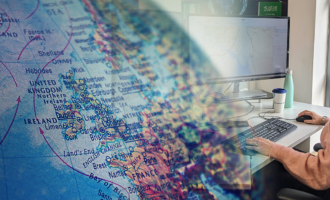 Insights
Plotting out your career in GIS mapping? Read Eden's story to inspire you
The telecoms industry is extremely varied, with a variety of roles within the vast organisations. At Jurassic Fibre we encompass a large pool of specialisms within our workforce, and all collaborate on the ambitious project of bringing full fibre across the South West.
Training and developing our team is of the utmost importance, and we aim to provide a 'nursery ground' to learn, develop, and experiment, as well as support through courses and qualifications.
At this exciting stage of our scale-up phase, we thought we would shed some light on the people within Jurassic Fibre, and peek behind the curtain at how they have developed their careers.
Eden Connolly, is one of our Geospatial Information Systems (GIS) technicians and has had a fascinating start to her career.

What do you do at Jurassic Fibre?
As a GIS Mapping Technician in the GIS Data Quality Assurance team I get to use a host of maps to see every part of Jurassic Fibre's network including cables, structures, connections and more! My role is to make sure these maps are up to date, accurate and work with other departments check for issues.
What are GIS maps? And why are they different from normal maps?
GIS is an acronym for Geographic Information Systems, and is an easy way of viewing, manipulating, and displaying spatial data. It has many layers in it so we can view cables, roads and structures, as well as a whole host of other construction information.
How does your work support other departments?
The GIS Mapping team could be classed as 'fixers', we support the installation, survey, and construction teams to keep the data accurate and up to date. This ensures all our customers can get the best service, and new customers are connected quickly.
How did you get into something like this?
I did a geography degree and as part of the course I had GIS modules and a really amazing and inspiring GIS professor who encouraged me to take a deeper look into the field. Then my dad saw a job advertisement for Jurassic Fibre and he realised it was the same as my degree course so I applied for the job and got it! I spent my summer holidays interning, and then a further 5 months whilst completing my Master's degree in GIS.
What do you need to have a career in GIS mapping?
You can come from different backgrounds, a few of us have come from geography backgrounds, a few self-taught themselves GIS, and then a few have never done GIS before and were trained by Jurassic Fibre. There are a lot of free courses online that will give you a good foundation for the type of work, it's applications and also career paths.
As employee number 9 in Jurassic Fibre which now has over 400+ staff, what's it been like seeing the transformation from start-up to scale-up?
The whole process has been inspiring. To have seen Jurassic grow from a one room office with a few employees in 2019 to over 400+ employees in our new large scale office in Exeter has been an interesting journey to be part of. I have also learned a lot about how company priorities change and adapt to the current capabilities of the company. In the beginning, creating data was a priority to enable Jurassic to get its first customers. Now, data quality is more of a priority; the database has grown so much from the Exmouth and Sowton areas to covering most of the South West, so ensuring such a large amount of data is correct is important to new and existing customers, and the growth of Jurassic Fibre.

Who inspires you?
Phillip Freckleton, the GIS Manager at Jurassic Fibre, I have known Phillip since my first summer at here when he was complaining about the cold weather in England compared to his native Jamaica. He supported me through working at Jurassic during the summers of my Bachelor's degree, and part-time during my Master's, helping me achieve results within my internship project, and now working full-time as a GIS Technician. Even four years later I'm not sure Phillip has grown any more comfortable with the English weather.
What else do you love about working at Jurassic Fibre?
The other members of the GIS Mapping team – they are all hard-working and easy going, it's a joy to work with. Also, the new office at Pynes Hill is lovely. This is the 3rd office I have been in at Jurassic Fibre and the nicest of the 3.
And our final question, what's been your favourite memory so far?
Working with the senior GIS team to complete the first field surveys for Jurassic Fibre. This was Jurassic Fibre's first summer and there were less than 20 employees. Everyone had to muck in and apply themselves to lots of different jobs. Although fun, I am glad to have seen Jurassic grow and job roles settle.
If you're interested in joining our team then check out our careers page or follow us on social media to find out what careers are available at Jurassic Fibre.