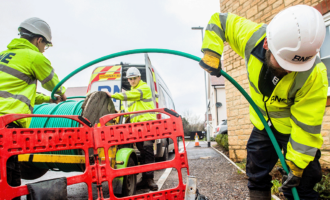 Insights
Celebrating our ex-military staff and their contribution to Jurassic Fibre
With over 350 people here at Jurassic Fibre, and more being recruited, we wanted to highlight the incredible skillsets of our team. Many of our employees are ex-military people and use the skills learnt throughout their military careers to ensure the smooth running of our full-fibre network.
We asked four of them to talk about their previous roles in the military, and their transition to civilian life and the value they bring to our Jurassic family.
Meet Tony Edwards, Jurassic Fibre's Head of Health and Safety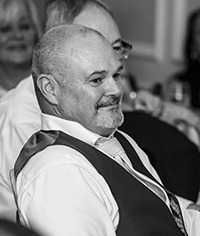 As a former royal marine, working as a metalsmith, you might not expect Tony to wind up working for a telecoms company. Tony has had plenty of experience dealing with a vast manner of health and safety concerns.
Tony manages a team 7 within the health and safety team who go out and conduct audits and look at the civil, cabling, and street works teams as well as the general health and safety associated in office environments. The goal of the health and safety team is to prevent incidents occurring and ensure everyone goes home safely.
When asked what transferrable skills he has, Tony comments on skills many ex-service people will have, without even realising it.
'Leadership was one of the biggest skills I learned whilst in the marines. You have to have an awareness of how to manage yourself, your team, and your time especially when you're in stressful situations.
'This skill is still needed in civilian work, and it's so intrinsic in how you formally operated day-to-day, that you don't often see the benefit within your own skillset.
'Comradeship is also something you take with you, as you're keen to develop a close-knit team in your new environment.
After leaving the marines Tony spends his spare time tinkering with cars and motorbikes, as well as going out for weekends away in his motorhome. 'I am extremely grateful for the life I have' says Tony.
'My partner has terminal cancer, so every day is a blessing to be with her. We like to relax and enjoy all the benefits the South West has to offer, like walking on the nearby beaches with our dogs and travelling around the region in our motorhome with friends.'
Joe Allan, Jurassic Fibre Survey Manager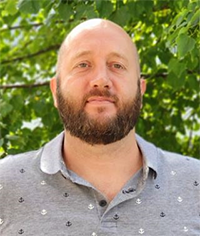 James Mundy, head of Network Operations Centre (NOC)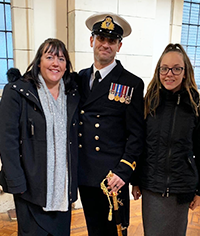 James was in the Royal Marines for 22 years as a telecoms engineer, and finished his time as Colour Sergeant, this was after working his way up from fixing radio equipment. Within James's role in the marines, he advised on telecom issues and oversaw a team of engineers,
He was commissioned and transferred to the Royal Navy doing weapons engineering and finally, after an extensive career in different engineering disciplines, James was placed in the Network Operations Centre (NOC) at Jurassic Fibre.
After an unfortunate bereavement in the family, James left the military to support his family and further his commitments back home.
'I am happy that I Ieft' says James, "but I miss certain aspects of the military. NOC in the military is very complex and can be quite stressful, so moving to a telecom company was a refreshing change.
'My skills were very transferrable to working in NOC at Jurassic Fibre. I had worked with a lot of civilians in the Navy, so I had almost a half-step into civilian life.
'My biggest piece of advice for anyone wanting to leave the military is to get your ducks in a row. Make sure you have a plan on what role you're going to work in.
'LinkedIn is a great resource for finding people in the same industry or role you'd like to work in. Reach out to them and start making connections, ask for advice and set yourself a plan.
'It's also important to have a strong focus on the positive changes you would like to see in your day-to-day civilian life.
'I am extremely grateful for my career journey at Jurassic Fibre, I started as NOC manager and got promoted to Head of NOC in a matter of months. I have a great work-life balance which allows me to enjoy biking, kayaking, and running in my spare time.'
James Withers Head of PMO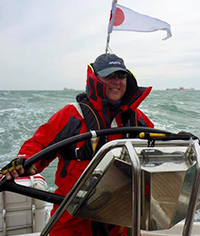 'A lot of engineers in the Navy have worked within several different engineering disciplines.' says James. 'There are only a small number of engineering "specialisations" in the Navy, so you tend to be something of a generalist, and your skills and experience grow.
'When I left the military to join telecoms, I found transitioning into a new career a relatively smooth process. I had planned what I wanted to do after service life and was using all the same disciplines I had learned in the military; from leadership, to project management, to strategic planning. The biggest difference, and one I probably hadn't thought too much about, was in my personal and family life. When you change careers, your family experience the change too, perhaps more than you think!'
When asked what advice James would give to any new ex-service people James responded, 'Don't assume that your skills aren't transferrable and that you don't have any value to bring. Spend some time thinking about what your skills are rather than the specifics of what you did. When your change of career is a planned one this is easier to do but sometimes, if your service career was brought to an unplanned end, people can lose their sense of worth. If this happened to you don't let that get you down, you still have the skills no matter how unexpected the change of career!
'For example, the majority of ex-military personnel will have skills in risk management, people development, leadership, etc. You can easily forget these, you've taken them for granted for years, but these are some of the competences that equip and empower you to create the life you want.
'I am grateful for my time in the Service, the experiences and skills, as well as the friends and colleagues I met. These, plus the support of my family, allowed me to create the sort of life I wanted for myself and them since leaving the military. But changes don't stop happening when you leave the Service: our children have grown up now and have flown the nest; they've spread their wings and are thriving whilst we're learning to be a couple again… life never really stops changing!'
Conclusion
We are extremely proud to have such an incredible team of ex-service people here at Jurassic Fibre.
Our staff represent a cross-section of the ex-armed forces community and bring with them an incredible skillset.
If you are interested in joining us, head over to our careers page to take a look at our current vacancies.