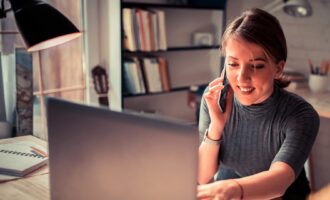 Insights
Is Your Broadband up to Scratch for Remote Working?
The pandemic has transformed many things about the way we live, one of the most lasting changes is how we work. According to the Office for National Statistics, the number of adults who did some work from home increased from 27% in 2019 to 37% in 2020.
Fast forward to 2022, and 85% of home workers surveyed said they wanted to keep on "hybrid" working going forward (i.e. some workdays at home and some in the office). And almost half of workers aged 30-49 reported that they were continuing to work from home.
Remote working certainly has many advantages; better work/life balance, no commutes, more time with family, and so on. But there's one major requirement for the idyllic working from home life we all dream of: fast and reliable broadband.
If your internet speeds aren't up to scratch, you could face awkward laggy video calls with the boss or painfully slow file downloads. In fact, 51% of new remote workers said they experienced technical difficulties shifting to a home office during the pandemic and 29% say they still do.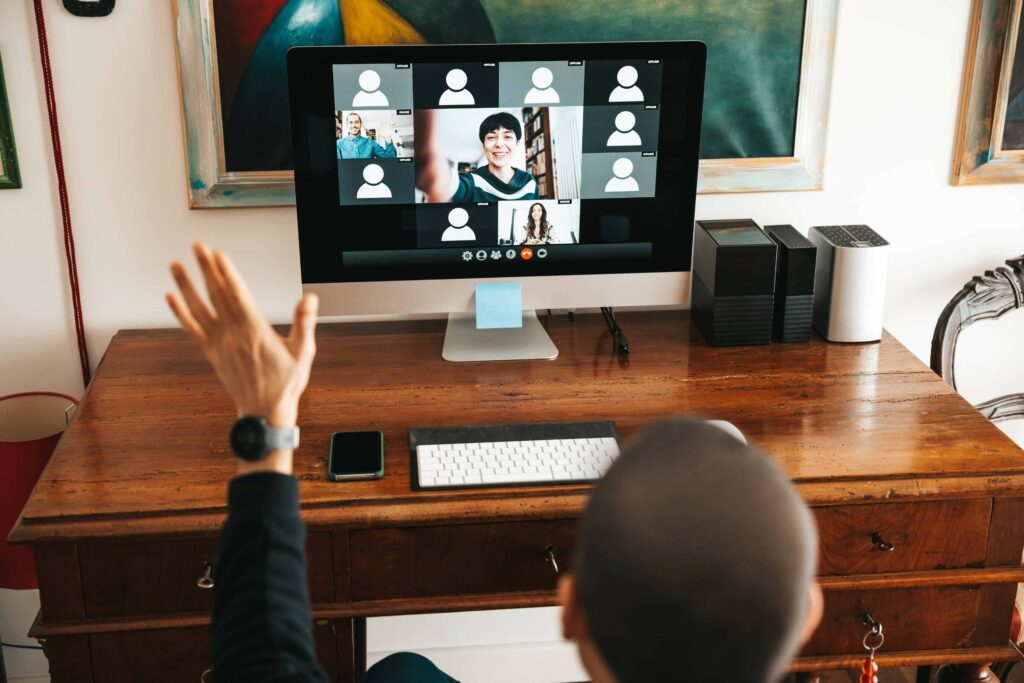 Here's how to tell if your home broadband is fast enough for working from home online (and what to do if it's not).
Is Your Home Broadband Fast Enough?
The first thing you need to do is run a speed test on your home broadband, to see the download and upload speeds you're currently getting.
Use a speed checker tool to test your current internet speeds.

For the best results, disable all other devices using your home network connection.

You can also move your device as close as possible to your router, or connect to your router directly using an ethernet cable. This gives you the most accurate results.

Take note of your results. Most internet speed checkers show you your download speeds, upload speeds, and ping.

Download speed — Measured in megabits per second (Mbps), this result shows you how fast you can transfer data from the internet onto your device. It's important for activities like streaming and video calling.
Upload speed — Also measured in Mbps, this is how fast you can transfer data from your device to the internet. It affects activities like torrenting or file transfers.
Ping — Measured in milliseconds (ms), ping is the time it takes for your device to contact an internet server and receive a response. Low ping is crucial for online gaming, for example.
Next, you need to work out if your resulting speeds are fast enough for the work you do from home. Ofcom suggests that the average person working from home requires a minimum speed of 10 Mbps download and 1 Mbps upload.
It's important to take everyone in your household into account though. Are you in shared accommodation or a family home? Is there more than one of you working from home? Your broadband speed might be fast enough for your video conferencing sessions alone, but will it hold up when your teenager logs in to play some League of Legends or Roblox at the same time? If anyone in your house streams TV shows or movies — or you have a smart TV — this can affect your speeds too.
Here's a handy chart of the minimum recommended speeds for various online activities: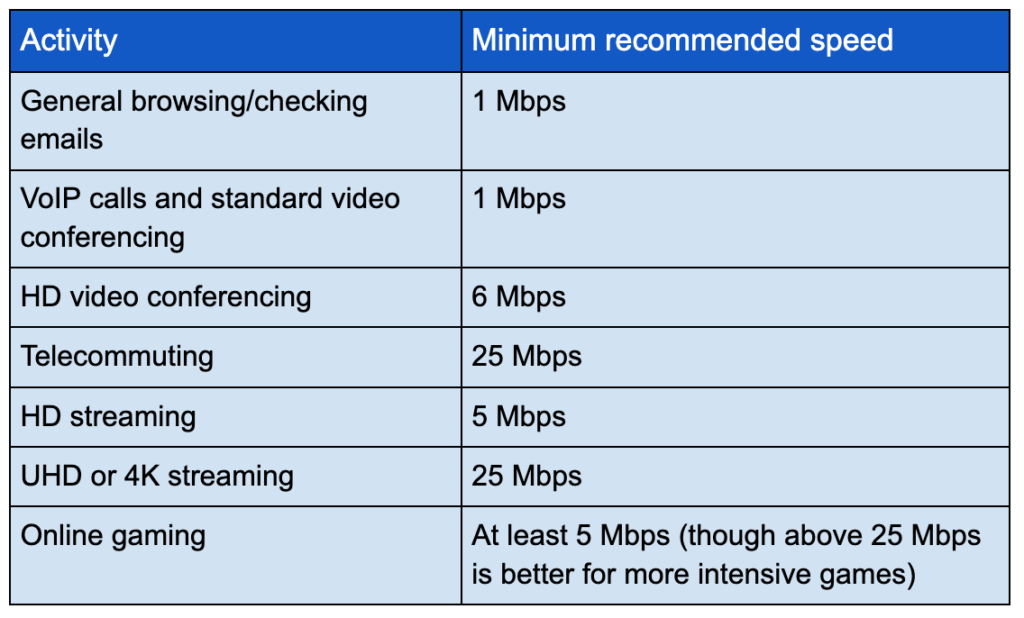 Remember that your internet connection needs to be able to cope with any of the activities carried out by your household at the same time.
What if My Home Broadband Isn't Fast Enough?
If you've realised your broadband isn't fast enough for home working (and everything else going on in your home), there are a few methods you can try to speed things up:
Use an ethernet cable — As we mentioned before, connecting your device directly to your router gets you the best speeds. Otherwise, you're relying on your Wi-Fi connection, and this can be weaker in different rooms.

Try a Wi-Fi booster — If you do experience spotty connections around your home, a Wi-Fi booster can help. They can significantly improve your signal in any problem areas.

Streamline your network — If you remote work using a PC or laptop, make sure it's not running any background programs that might be eating into your bandwidth. You can also turn off the Wi-Fi connections for any devices you're not currently using.
If none of those tips work, it might be time to upgrade your broadband package.
Which speed is right for you?
Picking the right package can make such a difference depending on how many people are at home, how many devices connect and how much those devices consume daily.
Here's a breakdown of our home broadband packages, so you can get an idea of which one best suits your requirements.
150Mbps – perfect for HD streaming, occasional gaming and family video calls
450Mbps – an ideal speed for multi-device homes with home workers and gamers
950Mbps – excellent for 4K streaming, multiple home workers and competitive gamers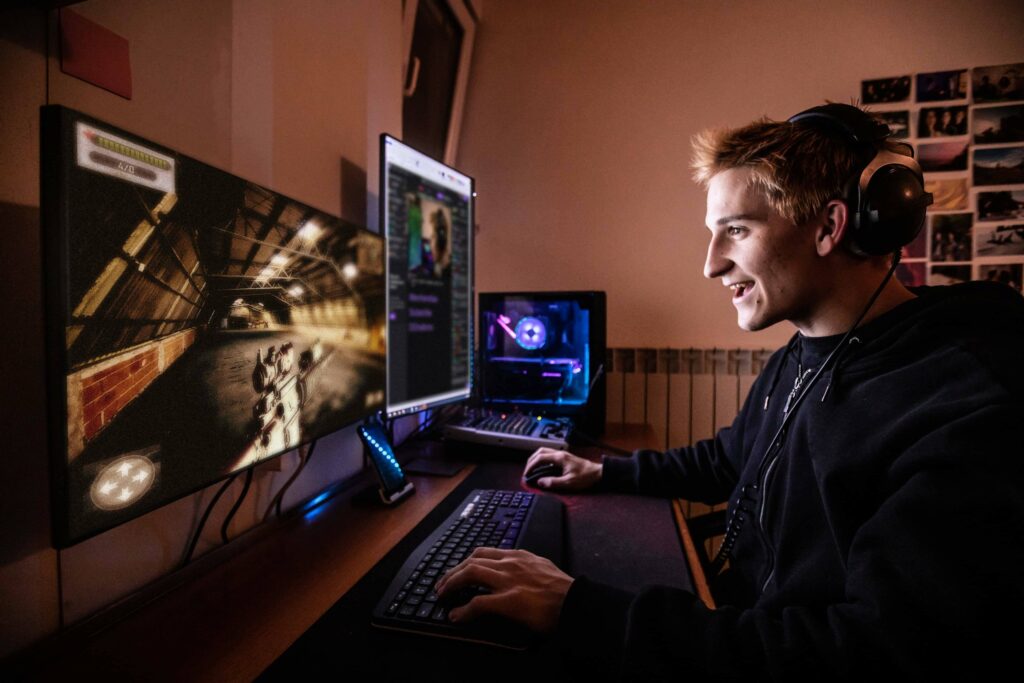 What Does This Mean for Jurassic Fibre Customers?
At Jurassic Fibre, our FTTP (Fibre to the Premises) connections give you the speeds you need to work from home. Whether you choose a business or home broadband package, even our slowest plans are more than fast enough for smooth and stress-free remote working. 
We also offer free installation, local support/aftercare, and plans that allow you to upgrade or downgrade at any time.
We've Got Your Back
Want to know how easy it could be to get ultrafast full-fibre broadband direct to your home? Use our online post code checker or call our team today on 01392 345600 to talk through availability and our packages.