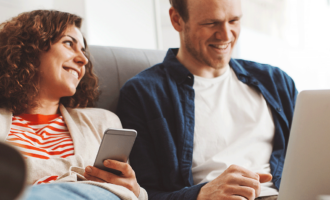 Insights
How to improve your Wi-Fi signal and range
Find yourself frustrated at poor Wi-Fi signal and inconsistent speeds in different areas of your home? Don't despair, because there are many things you can do to improve the strength of your Wi-Fi signal without having to call in the professionals.
Living in the beautiful South West, particularly in rural areas, can provide some challenges when in pursuit of fast and reliable Wi-Fi, with Dorset residents experiencing home broadband speeds of almost half (32 mbps) of those living in Surrey (60 mbps). Which can prove frustrating and obstructive for home workers, gamers and people wanting to chill out and stream the latest blockbuster.
However, there's good news, as we are working on providing Dorset with cutting edge broadband, and now provide 42% of Dorset with fibre speeds from 150Mbps to 950Mbps – Areas we cover are Dorchester, Weymouth, Portland and Bridport with more coming online in the next year.
Why is your Wi-Fi signal so slow?
There are many reasons why your Wi-Fi signal could be so slow. Whilst internet adoption continues to gain pace, the Wi-Fi technology that connects our devices can struggle in larger homes or offices.
Whilst wireless networks are a mainstay in UK homes, with over 96% of households having a wireless internet connection in 2020, the technology itself relied on radio waves, very similar to those leveraged by television or radio. The signals range between those from your microwave and those on your car radio and can therefore be compromised by a wealth of obstacles that could reduce signal strength.
The radio waves can also suffer from interference from other devices also emitting radio waves. Your Wi-Fi could also be compromised by weaker signals sent by less efficient or less modern wireless equipment, or you may simply be having technical issues or a lack of power, which could both result in weaker signal.
According to Comparitech, wireless networking equipment will be operating in the 900 MHz band, or the 2.4, 3.6, 5, or even 60 GHz frequency bands. It's more than likely that your home router currently operates in the 2.4 GHz or 5 GHz bands.
Why is this important? Because it could provide vital clues as to why your router is experiencing issues with strength and range.
Physical obstructions
Concrete walls and other dense constructions are the chief offenders for blocking the signal from your router. Reinforced plaster walls that contain metal wiring and large appliances can also compromise signals. Even thick glass can have a massive impact on the signal strength of your Wi-Fi.
Number of devices
Multiple devices all streaming or using the internet at once can cause congestion and slow speeds. This is because they share the same bandwidth, and therefore with every additional device comes a proportional decrease in bandwidth particularly when all being used at the same time.
Ultrafast full-fibre broadband explained
So, what does ultrafast broadband really mean? 'Ultrafast' broadband is a connection with speeds of more than 300Mbps, but less than 1Gbps (one gigabit per second, or 1000Mbps) and is serviced via fibre optic cables which span the entire route from your home or office to the nearest exchange. It can also be referred to as 'gigabit broadband' owing to its top speeds.
An ultrafast connection is perfect for households with a heavy load on their broadband. This could include movie streaming to multiple devices, a house with multiple video gamers or just those who want the luxury and peace of mind of a great connection and faster internet speeds mitigating buffering, lag and interruption.
How to improve the performance of your Wi-Fi
As we've already stated, there may be actions you can take to improve the performance of your Wi-Fi at home, before rushing to upgrade your package or invest in new tech.
Test your Wi-Fi speeds
A simple way to test your Wi-Fi speeds is to run a speed test using an app from your mobile device. Run a number of tests, one close to your Wi-Fi router to set a benchmark, then another at the furthest location in your home to test the strength of the signal. This will help determine if you need a booster to cover the furthest point in your property.
Purchase a Wi-Fi booster
Wi-Fi boosters extend the reach of your Wi-Fi signal by filling in dead spots, to help improve speed. Your Wi-Fi signal is directly related to Wi-Fi speed. So, when your signal is strong and reaches every corner of your home, your Internet performance improves as a result. However, the overall performance of your Wi-Fi will depend on the type of internet connection you have and typical internet speeds.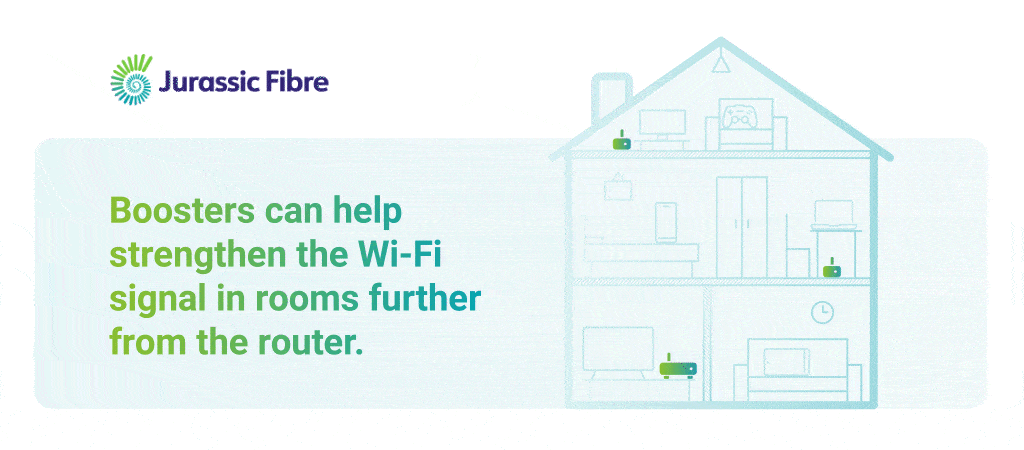 Does your Wi-Fi need an extra boost? Go ultrafast
Our broadband packages are extremely flexible and can be upgraded and scaled back according to your needs. All our broadband packages, including ultrafast options come with free installation and unlimited usage.
Our ultrafast Smarthome 950 package offers average download speeds of up to 950mbps and average upload speeds of 200mbps, perfect for houses with multiple devices, gaming and streaming active at once.
Interested? Simply check your postcode to find out if Jurassic Fibre is available in your street, or register your interest in our service in the future.
With Jurassic Fibre, you'll get:
Local support – A friendly local team deals with all enquiries.
Simple contracts – Fixed-price or monthly rolling contracts, you choose the perfect package for you.
Flexible terms – Upgrade or downgrade packages monthly.
Sound good to you?
Switch to Jurassic Fibre and get full-fibre broadband speeds direct to your home. Call our team today on 01392 345600 to find out all your options and go over the process.