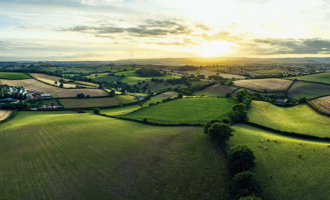 Insights
What Are Rural Broadband UK Options for Faster Internet?
Rural broadband in the UK can be a postcode lottery. There's no doubt that the South West is a beautiful part of the world, but those wide skies, sandy beaches and rolling hills can all impact your ability to live and work effectively.
But it shouldn't have to be that way. In Rishi Sunak's recent visit to Jurassic Fibre in Devon, The now Prime Minister confirmed that improving digital connectivity across rural communities in the South West is a vital part of the government's ambitions to level up every corner of the country.
And it's certainly a passion of ours.
In this article, we'll look at:
Why rural communities lose out compared to their urban counterparts
What people are doing in the South West to stay connected
Why FTTP fibre is the gold standard for rural connectivity
Common Issues with Rural Broadband
Slow lines
Most users get their broadband over the telephone network, and most households can get a BT phone line. So why don't rural broadband users get nothing near the dizzy heights of the speeds promised?
Quite simply, because the lines carrying the signal are simply too slow to create a decent broadband connection. The speed you receive has a strong correlation with how much of the signal is delivered by traditional copper phone lines.
If the signal has to travel across acres of land (don't forget that Devon is the UK's third largest county) then this can contribute to a weak signal when it comes to rural internet.
Distance from the nearest exchange
It's not only the distance that the signal has to travel over copper lines that impacts your rural internet speed. The distance between your house to the nearest exchange plays a big part. Many exchanges are found in urban areas, so if you're miles away from one, then your signal won't be great.
Drop in the fact that some exchanges are still running on inferior technology (some of the oldest exchanges report a max spec of around 2MB) then it's no surprise that town mice will get a better signal than country mice!
The fastest fibre isn't always available in the country
At its simplest, fibre cables are better at transmitting data than copper ones, and fibre optic broadband (aka 'superfast broadband) packages are now commonplace, with 90% of the UK having access to fibre connectivity. The issue? Rural areas, yet again, often lose out for the following reasons:
No fibre, no go: There is literally no fibre service offered in the area (10% of households still remain without, the majority in rural areas)
Fibre doesn't go the whole way: If fibre is available, speeds are compromised by the fact that many fibre products travel miles to the exchange… only to travel the rest of the way (i.e. to your home) via existing (old, slower) copper wires. This might be OK in London, but given that many houses in the South West exist miles from the exchange, simply choosing fibre isn't the silver bullet you'd hope for.
What's the impact of limited broadband in rural areas?
All of the above can create familiar problems, such as:
Decreased productivity – slow connectivity can lead to wasted time and effort, delay in meeting deadlines, frustration when collaborating with colleagues, as well as missed business opportunities.
Delayed or lost communication – at worst frustrating, and potentially life threatening when the internet is relied on when caring for older/younger family members for example.
Reduction in wellbeing – when family and friends rely on the internet for entertainment and communication.
What's the solution? FTTC vs FTTP
It's fibre, but it's not just any old fibre. Rural areas benefit more than anywhere else from a nuanced understanding of how fibre is set up, and how the signal travels. To get a fast and reliable connection, look for a supplier that offers FTTP connections. Here's the difference:
Fibre to the Cabinet (FTTC) connections: fibre cable runs from the exchange to a cabinet, but only copper cables run from the cabinet to your home or business.
Fibre to the Premises (FTTP) connections: fibre cables run straight to your door from the exchange, delivering higher download speeds and faster connections.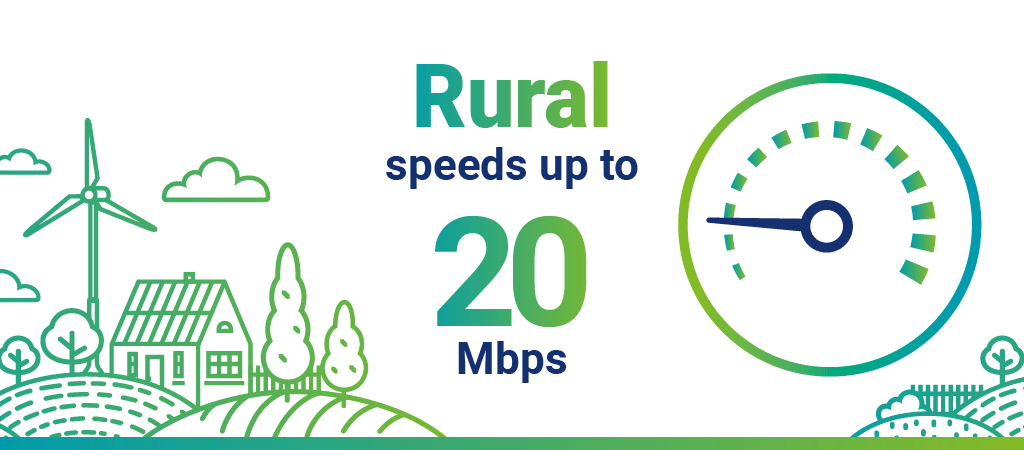 How Do Those in Rural Locations Get Online
So what are people like you and I doing in an attempt to get online – and why aren't they long-term sustainable options?
Mobile hotspots: aka 'tethering'
The practice of using your mobile device (or laptop, or anything with a data plan) to function as a wireless network. "Hotspotting" uses cellular data from the mobile service provider, allowing you to use wifi anywhere. In theory, anyway – but if your provider doesn't offer cellular services in rural areas, then you're a bit stuck.
Moreover, it can drain your battery pretty quickly and your network, and while still safer than using a public hotspot, is still subject to security risks.
Mobile broadband (4G/5G)
Similarly, while fast and reliable in many areas, 4G is frustratingly hit and miss, often with no obvious reason. Just because your dad down the road in Crediton gets a signal doesn't mean that you will. Moreover, it can be expensive, particularly if you exceed set limits, which is surprisingly easy to do if you simply make a few video calls.
Limiting the number of devices
If you've ever shouted upstairs to convince a teen to "turn off the Xbox, I'm trying to work" then you'll know that trying to improve connectivity by turning off certain devices isn't a popular, or long term, option for fixing your rural broadband.
Reducing the number of connections
As many more of us work from home, it's increasingly likely that devices running personal applications will be pulling on the same bandwidth as your work laptop. This can lead to an overall dropoff in connectivity, resulting in desperate measures to run a lean internet at home. But is this how you really want to live?
Why FTTP Fibre beats standard internet in rural areas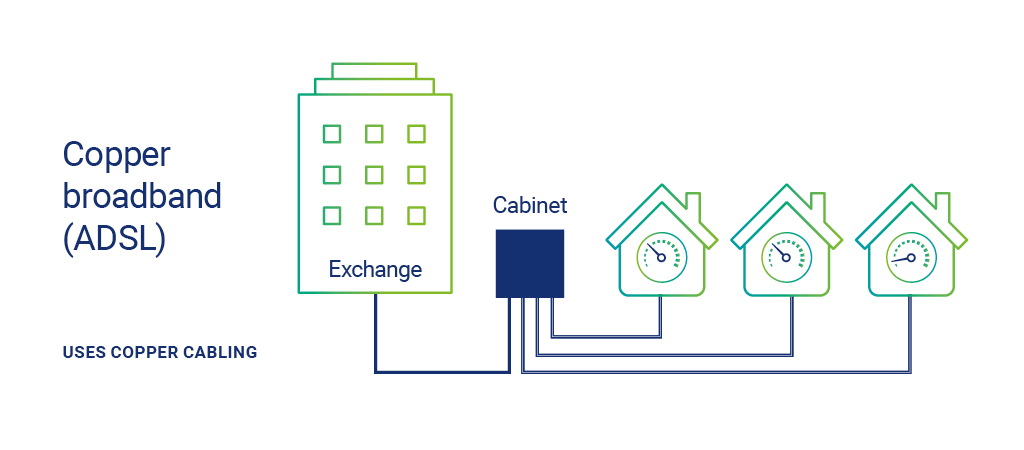 Which broadband is best for rural properties?
When it comes to connectivity there's no doubt: rural areas have it harder.
There are plenty of options to help you get connected, but none offer the speed, reliability or cost effectiveness of a true FTTP fibre package.
Choice of packages: you choose the speed that suits your family, your lifestyle or your business. Whether it's a 'Super Streamer' package, ideal for working from home, to a 'Supercharged' package that maintains ultrafast connections over gaming and streaming: our easy to understand range of fixed price and monthly rolling packages give you connectivity and flexibility. View home broadband options
Local support: Jurassic was founded and is run by people who live and work in your area. We understand your connectivity needs better than anyone else. We have stayed true to our roots, supporting the communities that we serve.
Upfront costs: we'll talk you through the right package, and once that's decided, that's it: no nasty surprises; what you pay is what you get.
Flexibility: we recognise that today's life moves at pace and what's right today might not be tomorrow. We'll work with you to reconfigure your needs, scaling your package up – or down – in line with your life.
Check Your Broadband Speed Today!
Jurassic Fibre covers a wide range of locations across the South West of England, through Devon, Cornwall, Dorset and Somerset and many more.
Ready to say goodbye to non-existent broadband and hello to fast, flexible connectivity? Check out our extensive locations directory and check your own with the Jurassic availability postcode finder today.