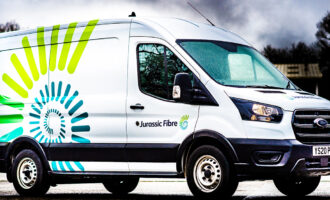 Location News
Jurassic Fibre introduces full fibre broadband to Honiton and Taunton
Jurassic Fibre has announced that Honiton and Taunton will be the next two areas to benefit from ultrafast full fibre broadband.
The extension of the company's network is part of a pioneering £250 million project to deliver fibre-to-the-premises (FTTP) broadband technology to towns and villages in the South West, overlooked by other service providers.
Work has already started in Honiton, with the service due to be available to many residents and businesses from later this year. Jurassic Fibre CEO and East Devon resident Michael Maltby says:
"Honiton represents a new phase in our journey and signifies a major step forward in our plans to improve digital connectivity in the South West.
Our investment in the town includes the purchase of a warehouse building to support our network build across East Devon and Somerset."
Phil Twiss, Devon County Councillor for Honiton and Feniton comments: "For a long time, we have recognised the need for faster broadband in Honiton and so it is extremely positive news that Jurassic Fibre has announced plans to extend their network to the town.
Jurassic Fibre has grown rapidly in the last year; recruiting 140 employees and expanding its network to cover over 14,000 residential and business premises to the East of Exeter. Locations now served include Exmouth, Clyst Honiton, Clyst St George, Clyst St Mary, Ebford, Exton, Farringdon, Aylesbeare, Lympstone, Sowton Village, Woodbury and Woodbury Salterton with the network being expanded over the next few months to provide coverage across the area to well over 20,000 premises. This will make the area, to the East of the Exe, one of the best served communities in the UK in terms of fibre-to-the premise access. Details of coverage in all areas can be found on the Jurassic Fibre website.
Unlike many national providers, Jurassic Fibre takes an innovative approach to sales, offering a 30-day rolling contract and allowing customers to upgrade or downgrade their package at any time. Customers also have 21 days after installation to cancel the service if they aren't entirely satisfied and they also have a choice of packages to meet their needs, whether they are a domestic or business customer.
"We have already seen our service deliver real benefits to homes and businesses, at a time when quality broadband has never been more important for remote working, home-schooling and keeping connected with others" says Michael Maltby.
"We take customer feedback very seriously and are constantly looking at ways to improve, innovate and adapt our products to meet customers' needs. For example, we are about to introduce fixed-line phone services for our customers that enable them to use their existing handsets."
This customer centric approach has seen Jurassic Fibre support the local communities they serve and they have recently launched a community scheme offering village halls free full fibre broadband for a year, with Farringdon and Sowton the first to benefit.
"We are now looking forward to introducing better broadband to the people of Honiton and Taunton in the coming months; future proofing homes and businesses and improving people's everyday experience of the Internet."