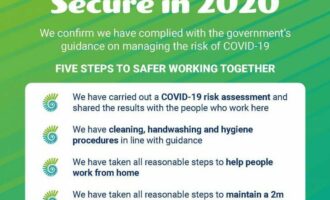 Company News
Staying COVID-19 secure in 2020
Jurassic Fibre Ltd has conducted a suitable and sufficient COVID-19 risk assessment for all of its offices, warehouse and field activities. The results conclude that we are compliant with the guidance set out in the Government document issued on 11 May 2020, Working Safely During COVID-19.
Our risk assessments and guidance will be reviewed and updates as guidance continues to evolve.
Our aim is to reduce the risk to our employees, our customers and the public, by introducing control measures to mitigate risk and ensure everybody's health, safety and wellbeing is being protect. We are informing, instructing, and training our employees as government guidance, and our own risk mitigation measures, continue to evolve.
If you have any questions or concerns about the guidance we have issues, to the assessments we have undertaken, please contact our Health and Safety Manager.