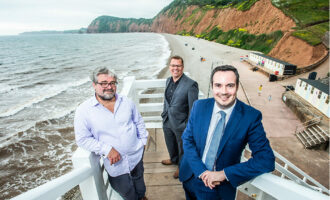 Company News
Internet 'milestone' for Sidmouth as Jurassic Fibre extends its network to the town
Sidmouth is being promised ultrafast internet speeds, with the extension of a full fibre network to the town and surrounding villages.
The broadband provider Jurassic Fibre will start work soon on a network that it says will deliver speeds of up to 950Mbps for residents, and 10Gbps for businesses, in Sidmouth, Sidbury, Weston, Salcombe Regis and Branscombe.
Full fibre means the line is fibre optic cable directly from an exchange to the property. Currently, the majority of the infrastructure in place relies on copper cables, which slows the internet speed down considerably.
Jurassic Fibre was set up by a Sidmouth resident, Michael Maltby, in 2018, and since then it's been installing its networks around the region.
He said: "As a local resident of Sidmouth, announcing the start of our build in Sidmouth is a milestone for Jurassic Fibre.
"I set up Jurassic in 2018 after years of frustration over the quality of the local internet, which was doubly frustrating having worked on building fibre networks around the world.
"The aim was simple: to provide the digital plumbing the region needs to thrive in the 21st century and secure Sidmouth and the South West's position as the best place to live, work and relax in the United Kingdom."
Simon Jupp, MP for East Devon, said: "I know just how important it is for everyone to have access to reliable and high speed internet. It is something I am committed to championing across East Devon and I am delighted that Jurassic Fibre are extending their network to Sidmouth and the immediate area.
"As a local resident of the town, I am particularly pleased with this important step forward for Sidmouth and hope that very soon thousands of local homes and businesses will have the opportunity to access better broadband."
Matthew Galley, Head of Partnerships at Jurassic Fibre, said: "We're delighted to be able to extend our network, not just in the centre of Sidmouth, but to all of the surrounding villages which are so often forgotten. We aim to work with communities to bring decent broadband to some of the most remote and hard to reach areas wherever possible."
Jurassic Fibre says it has a range of flexible plans for both business and home, check your post code to find out if you can get connected to our ultrafast network, or call our team on 01392 345600.