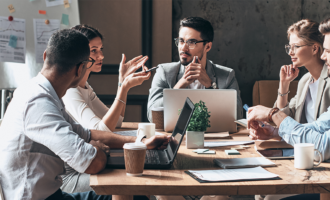 Insights
The benefits of fibre broadband for businesses
Full fibre internet coverage is rapidly expanding in the UK, bringing faster and more reliable internet to homes and businesses across the country. By 2025, the UK's copper network will be removed to make way for the fibre network.
Technology is at the forefront of the way we work and, with hybrid and remote working in full force, your broadband choice can have a substantial effect on your business. Connectivity is critical for all organisations, and if your business broadband isn't up to speed, fibre-optic could be the answer.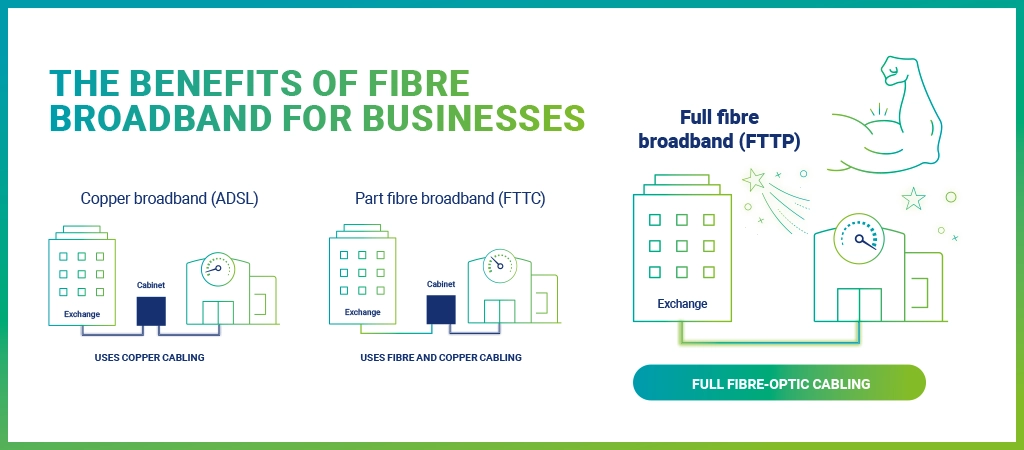 What is Fibre Broadband?
Fibre broadband, also known as fibre-optic broadband, is a type of internet connection that is quicker and more dependable thanks to the way it transmits data. It is named after the type of cables it uses to connect your business to the internet and is one of three types of broadband technologies that are commonly available in the UK, the other two being ADSL (or asymmetric digital subscriber line) and cable.
Instead of the conventional copper wires used in regular broadband connections, fibre broadband employs plastic or glass cables. Data is transferred using light beams, which means it travels at higher speeds and provides a more reliable connection. Fibre broadband's capabilities can result in a host of benefits that can help you streamline your organisation and propel it towards its full potential.
Signal strength
Signal strength is an issue that plagues many businesses around the UK that do not have access to fibre broadband.
With traditional broadband connections, your data is transmitted via copper cables which can result in signal degradation if you are too far from a telecommunications exchange. However, with fibre-optic lines, the signal strength does not degrade as quickly over distance, so you will have a stronger and more durable connection.
This can result in faster internet speeds, fewer connectivity issues and the ability to provide internet to a larger number of employees or customers. If your business operates out of a large facility or your employees are located a great distance from your IT hardware, fibre broadband with a strong signal is essential.
Reliability
As businesses become more dependent on the internet, the reliability of your connection is an area that should no longer be overlooked. Many of the applications employees use in their day-to-day work depend on fast performance.
Unreliable internet connections can be disastrous for businesses as an unexpected outage can wreak havoc on communications and productivity. Conventional broadband connections are susceptible to interference from elements such as cold temperatures, humidity, and electrical signals, all of which can slow down your internet connection or cause it to drop out entirely.
Fibre broadband is less likely to be affected by any interference; providing a secure and high-quality connection for your business and, in turn, helping you to drive growth, improve operations, and achieve long-term success.
Cloud Capability
Cloud-based services are becoming increasingly popular, with applications such as Microsoft Office 365, Zoom, Google G-Suite and Salesforce becoming prominent features of a successful company. The UK's cloud computing market is on the rise and many businesses now operate on a cloud-first basis for processes like data backup, communication, software development and more.
However, the disadvantage of cloud-based services is that these applications demand more bandwidth to function properly. Upgrading to a fibre business broadband plan can neutralise this problem, as faster speeds and greater bandwidth can contribute to a smooth cloud integration.
Connect more devices
One of the key benefits of fibre broadband for businesses is that it is designed to service a high number of devices simultaneously. Where traditional broadband connections may struggle with speed and reliability issues with a large number of connections, fibre broadband is able to maintain consistent performance.
Our business fibre broadband allows you to browse the internet, stream video calls, upload large files and carry out any number of tasks, all at the same time on multiple devices.
Cost savings
Moving to a fibre broadband connection may seem like an additional cost at first, but the long-term cost benefits of converting could be significant. Fibre broadband reduces the likelihood of a temperamental connection, which means your internet is less likely to harm productivity, damage a customer's experience or interfere with communications.
No matter what industry you work in, a good internet connection is essential for growing your customer base, connecting with your team, and completing more tasks efficiently. A drop-off in performance in any area of a business can result in a loss of money. By upgrading to a faster broadband service, you are ensuring that poor internet connections are not damaging your business.
Security
When it comes to cable broadband connections, hackers and information thieves can use a variety of tactics to obtain access to your company's critical and secret information. Cyber attacks are still occurring regularly,, and it's more important than ever to focus on your organisation's online security.
One of the most significant advantages of installing a fibre broadband connection for your business is that it provides excellent protection from cyber threats. Fibre optic cables make interference from third parties far more difficult and costly. Coupled with its ability to host cloud-based services, fibre broadband is currently one of the most secure networking solutions available.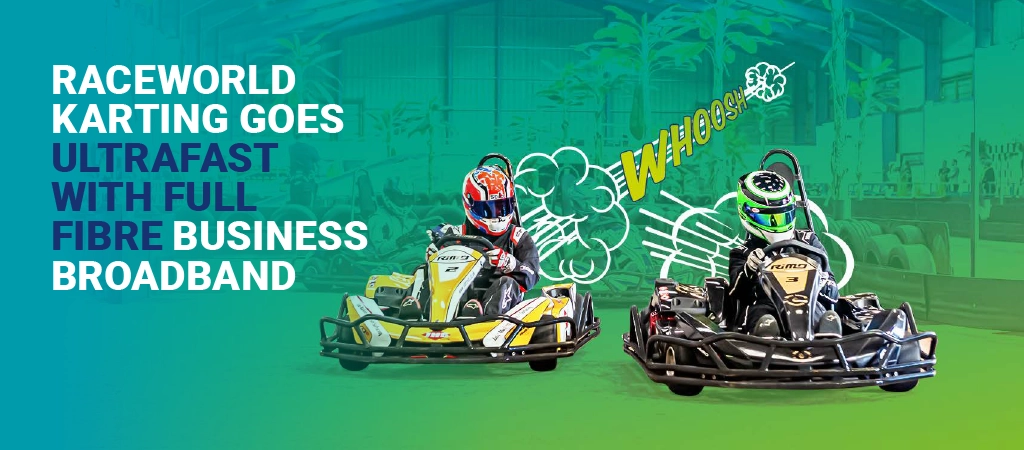 Which providers offer fibre business broadband?
At Jurassic Fibre, it's our mission to ensure your business connections are seamless. Our ultrafast full-fibre business packages provide enterprise-grade speeds of up to 10Gbps and SLAs that give you additional peace of mind.
We want our businesses and communities to have the broadband they deserve and are determined to offer you the best services possible. With no phone line required and a choice of 12 or 24-month contracts, check today to see if we provide broadband in your area.