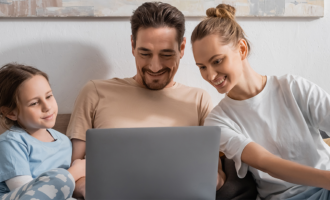 Insights
2.4GHz vs 5GHz: What's the difference?
Internet speeds have got faster, even now you can get fibre broadband in Crediton, but to support faster speeds and more devices in your home the wi-fi router has got to be smarter as well. You may have heard about "dual bands" inside your wireless router that allow you to connect to 2.4GHz or 5gHz, but what's the difference between them? Is 5GHz better than 2.4GHz? what type of devices should be on 2.4GHz and 5GHz? This article will look at the differences between those bands, why they are separated, and which is best to connect to.
What is a GHz?
The abbreviation GHz is short for gigahertz which is a unit of frequency that is equal to one billion hertz and also refers to wi-fi frequency bands that are used to transmit data between devices. The two most common wi-fi frequency bands are 2.4GHz and 5GHz and are used in nearly all modern devices that connect to the internet.
What is 2.4 GHz?
Wi-fi routers by default offer 2.4 GHz frequency which provides your home with wi-fi signals across a wide area and can penetrate thick walls or objects at speeds of 50+Mbps, but it is prone to interference from other devices or electrical equipment.
The history of 2.4 GHz?
The 2.4GHz come into public use in 1999 and served its purpose in the earlier days of Wi-Fi. The radio frequencies being used by the 2.4GHz were shared by other types of technologies such as cordless phones, microwaves, baby monitors and Bluetooth devices.
What are the issues with 2.4 GHz?
Due to the limited number of channels that the 2.4GHz band uses to transmit wi-fi signals or having too many devices connected to that frequency, it can cause congestion which could lead to devices suffering from slower speeds or dropping out completely.
Even though 2.4GHz is capable of transmitting up to 450mbps across your home, due to all the interference from modern appliances and smart devices that signal can be lost. The only major benefit that the band still has is its ability to penetrate solid walls and stretch outside of the boundaries of the premises, hence why it is still being used today.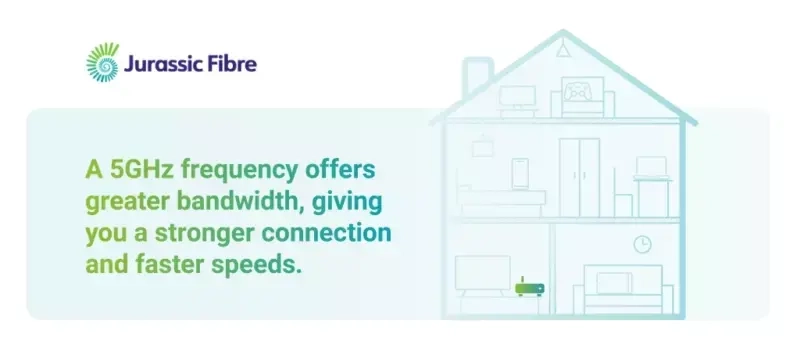 What is 5GHz?
The increase in Wi-Fi-capable devices through the 2000s meant that an upgrade to the frequency became necessary to support new innovations. A decade after 2.4GHz became the standard for Wi-Fi, 5 GHz took its place; a band with far more channels to work with and the capability to transmit up to 1300mbps.
What are the benefits of 5GHz?
The 5GHz frequency can handle speeds of well over a gigabit per second and uses multiple antennae which means you can connect more devices to your router without congestion. It also has the capability to connect with more smart home devices, such as speakers, security cameras and mobile devices that default to a 5GHz signal.
What are the limits of 5GHz?
While 5GHz is new and can provide faster data transfer it has a downside mostly to do with its range. The 5GHz frequency has issues penetrating thicker walls, which can limit signal reach inside your home as those walls from the router to your devices.
Is 5Ghz better for gaming?
Most modern consoles connect to either 2.4 GHz or 5 GHz, but having the best internet connection depends on where your console is located. If your gaming rig is near the router and you have a good line of sight then connecting to 5GHz will give you a faster connection, if you are slightly further away connecting to 2.4GHz will go through the walls or obstructions. Ideally, the best connection is connecting your console directly to your router using a wired ethernet cable.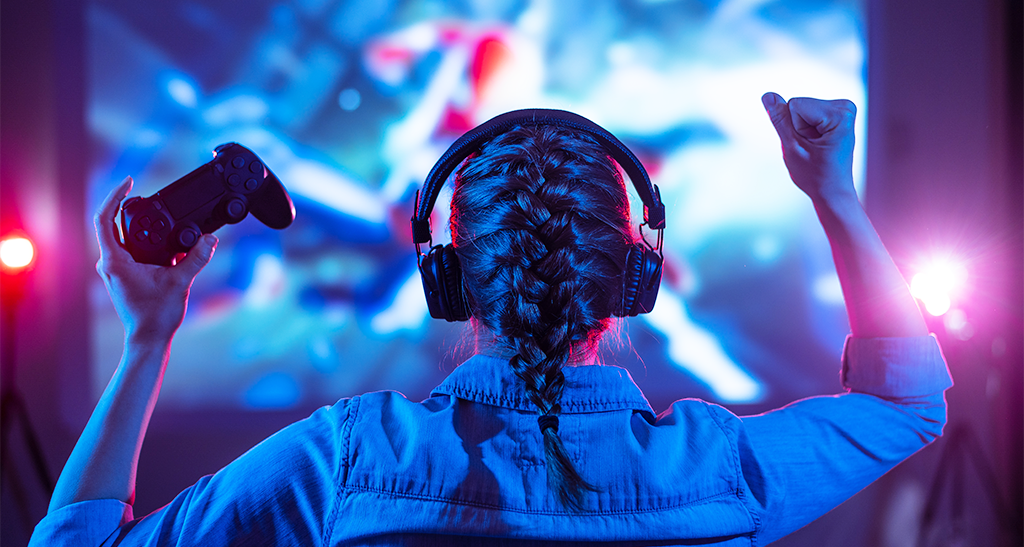 Is 5GHz better for my smart TV?
For devices that benefit from a faster Wi-Fi connection such as 4K smart TVs that are capable of connecting to 5GHz, this option will provide a seamless experience for all the family. For streaming devices that are further away from the router, it may be a more reliable option to connect them to the 2.4 GHz.
Why can't I connect to my 5GHz?
There can be a few reasons that your device can only see the 2.4GHz, the most common one is that it isn't compatible with the 5GHz frequency. As the 2.4GHz can stretch further than 5GHz, modern devices such as smart plugs, doorbells, cameras and smart speakers are designed to only see the 2.4GHz.
They often only need to connect to the internet when they are in use so having them on the slower band allows more space for Wi-Fi-consuming devices to use the 5GHz. The limited distance of the 5GHz would also mean you would need to keep all your smart devices near the router, which could prove difficult if your router isn't located near the front door for example.
Another reason could be the age of the device, older mobile phones and TVs are only able to see the 2.4GHz because 5GHz wasn't more commonly used at the time it was designed.
Is there a way to boost the 5GHz?
Boosting 5GHz wi-fi across your home and to other parts of the house can be done easily, by purchasing a new router with a stronger range, but that can be costly and there's no guarantee that it will cater to the needs of the property.
The alternative solution is to implement wi-fi boosters into your home network to help push the signal to parts of the property that other routers just can't reach.
One option is to run a cable from the router to a second router or booster, giving your property top speeds across the footprint of your home. This would work especially well when setting up offices in your garden or another part of your home, building your own gaming room or extending your home.
Check your connection by running a speed test.
An easy way to check your internet speed is by running a speed test using online software. To get an accurate reading we recommend you plug in an ethernet cable into the router and connect it to a PC/laptop. Once connected then a speed test will give you the true speeds that your router is providing.
Is 5GHz better than 2.4 GHz?
While both have their merits, 5GHz is better for your home as it offers larger throughput of connectivity to your devices. While 5GHz might not have the range, with some small additions of wi-fi extenders you can cover your entire property.
To ensure you have the coverage and speeds it might be worth splitting those bands up, especially when your device struggles on its own to choose the best one for it and connect it to the most suitable frequency. Being able to tell your device which band to connect, what they are used for and their importance will allow you to optimise your home's Wi-Fi, likely for the better.
With Jurassic Fibre, you'll get:
Local support – A friendly local team deals with all enquiries.
Aftercare team – Our engineers can help set up your home wi-fi networks to your needs.
Simple contracts – Fixed-price or monthly rolling contracts, you choose the perfect package for you.
Flexible terms – Upgrade or downgrade packages monthly.
Sound good to you?
Don't let slow speeds and patchy wi-fi spoil your evening in, switch to Jurassic Fibre and get full-fibre broadband speeds direct to your home. Call our team today on 01392 345600 to find out all your options and go over the process.