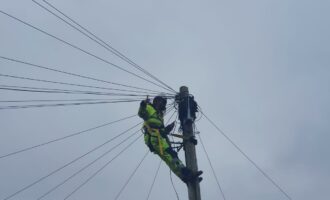 Company News
The Rise of Women in Tech & Telecommunications
For well over a decade, March 8th has been celebrated as International Women's Day and this year is no different. We've come a long way with 46.9% of the global workforce being women, but one of the industries still lagging behind is the tech industry. Did you know that globally less than 40% of those who work in telecommunications are women? At Jurassic Fibre, we're looking to break the boundaries and encourage more women to take a job in the telecommunications and tech industries.
Despite the tech industry still being predominantly male orientated, we are steadily seeing an increase of women looking to pursue a technical career. The best thing is that the growth doesn't look to be slowing down anytime soon!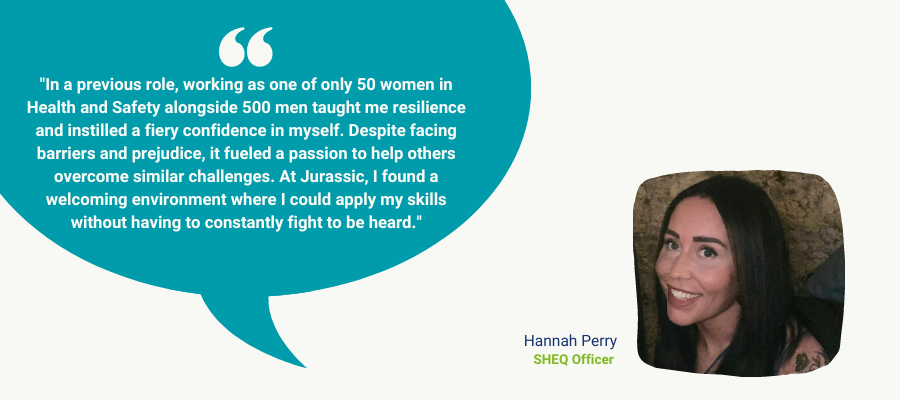 Our Wonderful Women
Women are still under-represented in the telecoms industry, but we're striving to help the change. In the last two years we've seen a 209% rise in women in the workforce; we've grown from having 45 women in the company to 140. Although only 30% of our workforce in Jurassic Fibre are women, this is higher than the industry average in the UK which sits at 26% in the tech industry.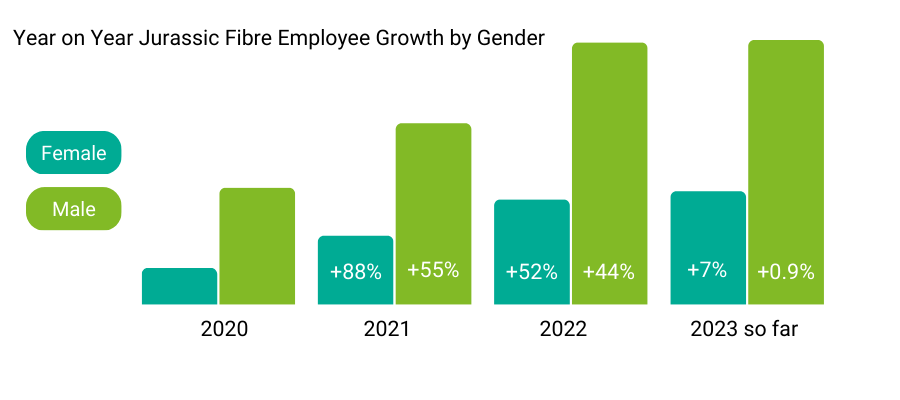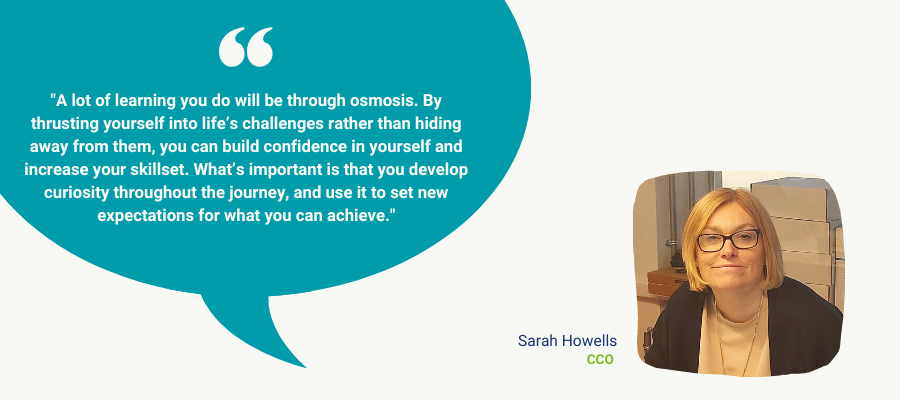 The Telecommunications Industry
Whether we're using Instagram, Teams or simply online shopping, telecoms enables us to stay connected with those we need to. There's never a dull moment in the industry and with how dynamic and diverse the roles and jobs can be, every day there is an opportunity to learn something new.
In the last decade, there has been a notable rise of females in the telecommunications industry. While historically male-dominated, more and more women are entering this field and taking on key roles in both technical and leadership positions. From C-level to engineers, to technicians, women are making significant contributions to the telecommunications industry and helping to shape the future.
Women in Engineering
Although engineering continues to be a predominantly male profession, in the last decade, females in engineering roles have risen from 10.5% to 16.5%, according to the Women's Engineering Society. We're in awe at how Alicia, our Customer Connections Engineer has developed in her career and we're also incredibly proud of our supportive team.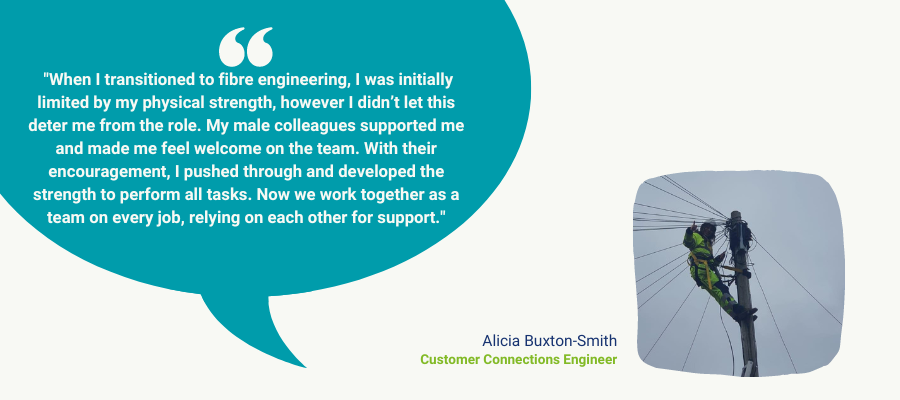 What Does Jurassic Fibre do to Support Women?
We're eager to grow the number of females in our team and have put in place measures to enable them to grow throughout their careers. We support our colleagues with benefits that include part-time and flexible working, job sharing and hybrid working patterns. We also have a menopause policy in place, including a regular menopause café, as well as support networks.
In order to support all employees within the business, we encourage a coaching and mentoring culture with the view to embedding equal opportunities for all.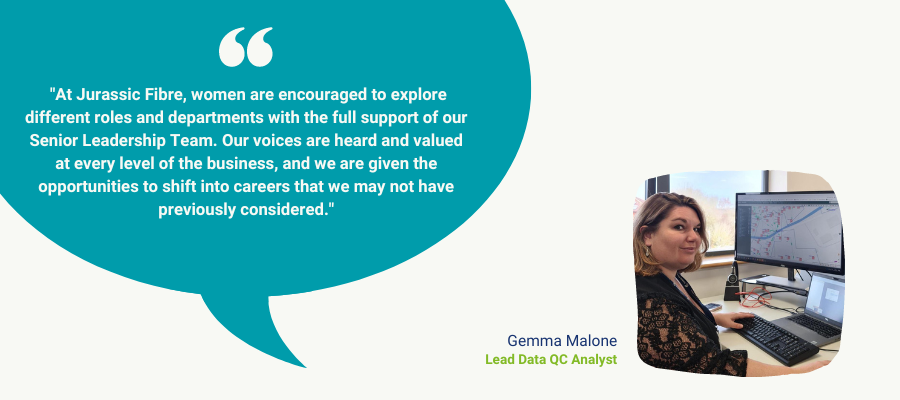 What Can We do to Encourage Females to Get into Tech?
The gender gap in technology starts at school, with girls less likely to study STEM (science, technology, engineering and mathematics) subjects which impacts them throughout their whole lives. Therefore, it is essential that, from a young age, girls are encouraged to take the right path for them, whether that be a career in technology or not.
Here at Jurassic Fibre, we're passionate about inspiring the future generation and encouraging more women to get into the tech and telecoms industry. We have future plans to attend career fairs and STEM events to further encourage females from a young age, to explore a career in this industry. There is so much opportunity to grow and evolve in this sector, due to the sheer growth of the industry, which is constantly evolving.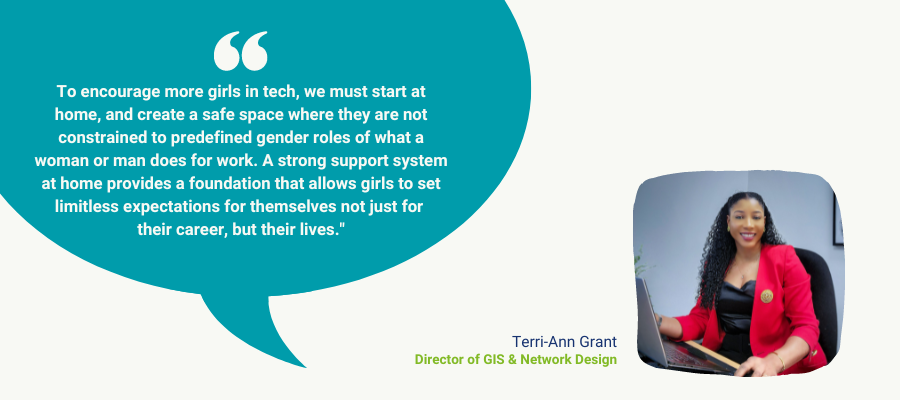 The future for women in tech looks promising, with schools identifying a need for change, paired with more companies committed to implementing flexible working schemes and benefits so that women can continue to grow in their careers, no matter what stage they are at in their life.
Although we are seeing a steady increase in the numbers of females working in the tech industry, there is still a lot of work needed for equality. If you're looking for a career in the telecoms industry, browse our current vacancies here at Jurassic Fibre. We're eager to connect the most rural areas in the UK with ultrafast full fibre broadband, and you can help us!