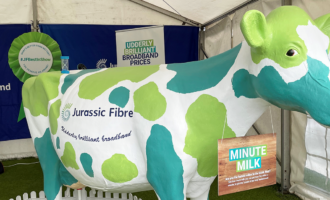 Company News
Join us at Devon County Show for virtual cricket with sports stars, gaming, and milking a 'cow'
It's all in the Jurassic Fibre marquee
South West-based ultra-fast broadband provider Jurassic Fibre is unveiling its most spectacular marquee yet at the Devon County Show (Thursday May 18th to Saturday 20th) this year.
Families, gamers and wannabe cricket stars will find plenty to do at the marquee at Stand 291, Road 8. Visitors will be treated to free slushies and offered scratch cards for prizes including gaming headsets, picnic blankets and water bottles and notebooks.
The Family Zone will be full of free, fun activities for all ages including, a slushie machine, colouring to do, and a chance to test your milking skills on 'Pat' the model cow.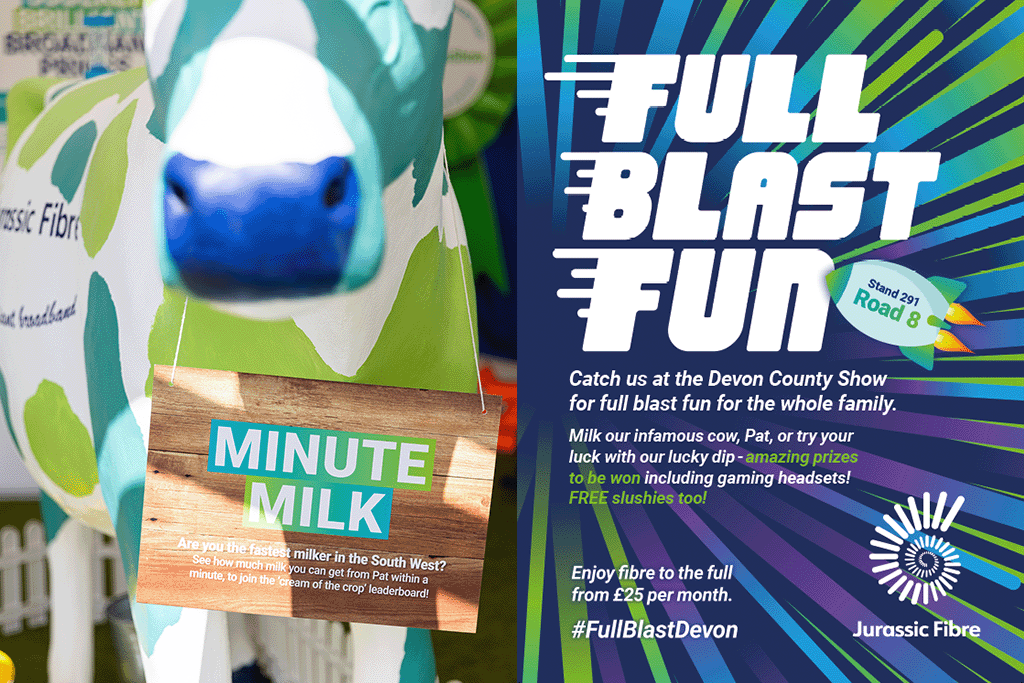 The Gaming Zone features a racing simulator game with prizes for top performers including tickets to Raceworld Go-Karting near Exeter.
The Community Zone will be welcoming Hospiscare into the marquee to showcase the services the charity provides for terminally ill patients and their families in Exeter and the surrounding area.
There will also be a virtual reality cricket experience across the three days, with a special guest appearance from Exeter Chiefs and Somerset Cricket Club players on Friday afternoon at 2pm. Free branded cricket bats and balls are also up for grabs.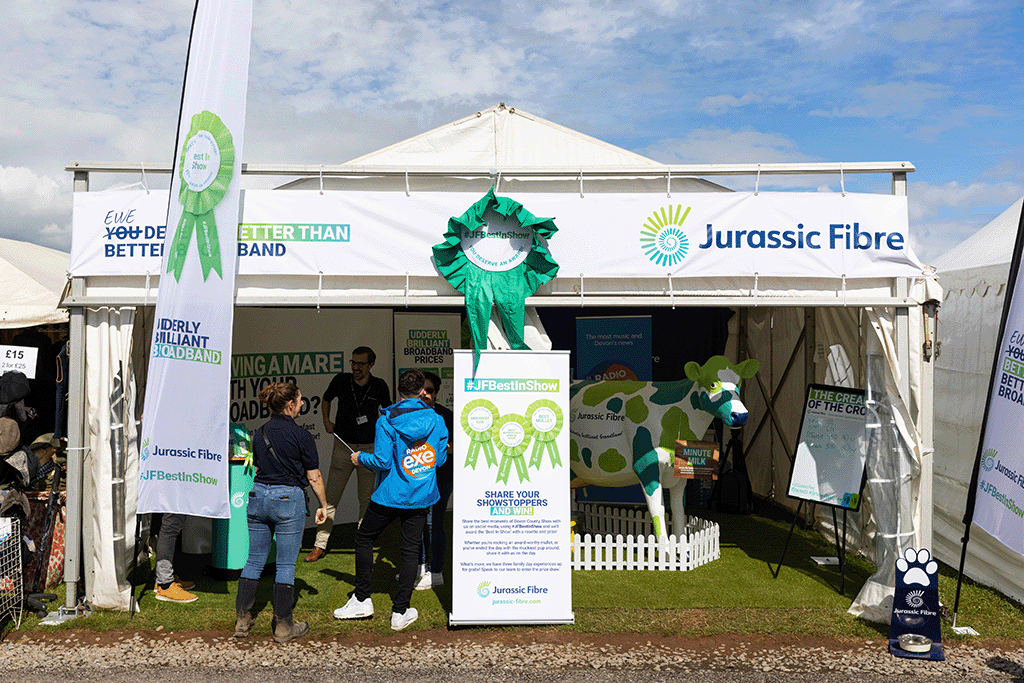 Jurassic Fibre staff will also be on hand to answer any questions from people about their broadband, particularly if they live in rural areas and are struggling to get a fast connection.
Jurassic Fibre Chief Customer Officer Sarah Howells said: "We had a brilliant time at the Devon County Show last year, and we're going even bigger and better this year.
"We hope we have plenty to do for all sorts of people – from gaming to a virtual game of cricket, to milking Pat our model cow for the kids. We've got plenty of freebies which is always important at Devon County Show, and of course our expert staff will be on hand to answer any questions people have about their broadband. Jurassic Fibre is rapidly rolling out a new ultrafast full fibre internet broadband network to connect communities across the South West, particularly in difficult locations that other internet providers won't go to. So we do understand the problems people have and may be able to offer concrete solutions.
"Jurassic Fibre's ultrafast full fibre broadband speeds mean that what would take sometimes hours to download on old fashioned copper broadband can be achieved in minutes. Our customers are enjoying speeds of up to 1Gbps – which means even the 'super streamers' using multiple devices, watching films, gaming and downloading huge files, can enjoy fast, reliable broadband. We're looking forward to meeting people and showing them how it works."
Jurassic Fibre is the Main Arena sponsor for the show. On Saturday at 12noon the Jurassic Fibre 'Billy Blast-off' rocketman mascot will be joining the Mascot Race which promises It's-a-Knockout style entertainment with company mascots pitched against each other.
Jurassic Fibre now one of the biggest employers in the region with over 460 staff at its Exeter headquarters. The company has achieved 85% 5-star reviews on Trustpilot with an overall rating of 4.7, reflecting its drive to provide not only ultrafast broadband but excellent customer service.