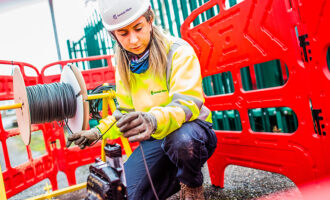 Company News
Major UK Telecommunications Company Launches in South West
News revealed at signing of contract with India's largest global IT company
A major new UK telecommunications company bringing ultrafast full fibre optic broadband to towns and rural communities in the South West of England has launched.
Based in Exeter, Jurassic Fibre will be rolling out a gigabit capable network in the South West over the next five years, as part of a long-term £250million pound infrastructure project.
Yesterday (Oct 1) at Sandy Park, home to rugby's Exeter Chiefs, Jurassic Fibre's founder and CEO Michael Maltby signed a contract with Carol Wilson, Tata Consultancy Services' (TCS) Head of Europe and UK, Communications, Media and Information Services Business Unit. Tata, one of the world's largest IT service firms, will be supplying key elements of the software solution for the project.
Phil Twiss, Devon County Councillor for Feniton and Honiton, Andy Wood, Projects Director at Exeter and East Devon Growth Point, Keri Denton, Head of Economy and Enterprise at Devon County Council, Peter Holland Lord Mayor of Exeter, Victoria Hatfield, Exeter City Council Growth and Commercialisation Manager and Dugald Lockhart, Superfast Dorset Project Lead, were amongst over a hundred guests at the contract signing.
Michael Maltby, CEO of Jurassic Fibre, said: "This is a big step forward for connectivity in the region and absolutely vital as more and more of the world goes truly digital. Jurassic Fibre will be working with communities, councils, businesses and consumers to develop a new fibre to the premises network, bypassing the decades-old copper one that most homes and businesses still rely on for broadband and phone landlines in the South West.
"We are delighted to be partnering with one of the world's largest technology providers, Tata Consultancy Services. Jurassic Fibre will be taking the internet experience for families and businesses to a whole new level, allowing people to be 'truly digital' in their day-to-day lives, making the digital plumbing of the South West a reality in the 21st century."
Tata Consultancy Services, a company with close to half a million employees operating in 46 countries around the world, is the first of several key partnerships to be announced as part of what ultimately is expected to be a £250m investment in the broadband infrastructure of the South West.
"Fibre optic broadband connectivity will enable residents and businesses across the South West of England to realise the potential of digital technology," said Carol Wilson, Head of Europe and UK, TCS Communications, Media and Information Services. "Around the world businesses are using digital technology to harness new opportunities and transform their operating models. We are proud to support Jurassic Fibre through the TCS HOBS platform, which will help the company deliver the ultrafast internet speeds to businesses and consumers."
Phase one of the network build starts this autumn and will expand to cover areas around Exeter Airport, Sowton Industrial Estate, homes on the eastern side of Exeter and nearby villages including Clyst St Mary, Clyst St George, Sowton Village, Farringdon, Lympstone and Woodbury, and then south to Exmouth. The network will then roll out to cover areas including Honiton, Tiverton, Barnstaple, Teignmouth, Taunton, Dorchester, Weymouth and Yeovil.
Local residents can register their interest, via the Jurassic Fibre website. They also have the opportunity to take part in the Friendly User Testing trial, receiving three months free ultrafast broadband. The service will then be rolled out across other parts of Devon and the South West.
During the last three months, Jurassic Fibre has undertaken a successful programme of community consultation. This has included presentations to communities within the phase one catchment area, focus group research and positive meetings with councils, business groups, schools, companies, health centres, care homes, landowners and potential local suppliers.
Neil Parish, MP for Tiverton and Honiton, welcomed the announcement and urged a joined up approach to ensure priority areas including schools, businesses and other public amenities are included.
He said: "I know that broadband connectivity and speed is a major issue for so many of my constituents. I am therefore delighted that Jurassic Fibre has chosen this area of the country to announce their first major project.
"As well as the obvious benefits for households, this exciting new venture will provide a welcome boost to the local economy in terms of jobs and investment, which absolutely depends on outstanding digital connectivity."
Jurassic Fibre was acquired by Fern Trading Limited in early 2019, continuing Fern's track record in building and operating sustainable infrastructure which will make a valuable contribution to the UK. Fern is advised by Octopus Investments.
Toby Parkins, chairman of Tech South West, said: "Improving broadband is absolutely vital for communities and businesses across the South West. Standing still is not an option. Too many parts of the region will be held back, hitting business communications and productivity.
"This a very exciting project for the region that will be warmly welcomed by both the business community and householders looking for improved digital connectivity."
Alongside the major investment and broadband infrastructure roll out, the economic benefits to the region will see new jobs created, including senior management and technical roles. The team at Jurassic Fibre, a mix of South West based employees and telecommunications experts from around the UK and beyond, is already up to 40 people, with another 40 expected to join over the next six months.
Consumers and businesses can find out more about the different areas set to benefit, and register their interest at jurassic-fibre.com.